Pragna Patel, a founder and director of Southall Black Sisters, and award-winning artist/filmmaker Shakila Taranum Maan, describe the importance of dissent and hope to Southall Black Sisters, an organisation that for 42 years has been campaigning for and showing solidarity with black and minority women experiencing gender-based violence, racism and injustice.
Southall Black Sisters formed as a secular, anti-racist and feminist organisation in the aftermath of racial uprisings in Southall in 1979. Our day-to-day front-line advocacy and support work brings us in touch with women whose everyday battles for freedom, justice and rights continue to inspire us. But we have also learnt to collect the political residue that builds up from each and every individual account of resistance, and use it to construct a campaigning politics of dissent and hope. We know from the lived experience of these women that dissent is necessary to speak truth to power and hope is necessary to counter the dominant and pessimistic ideologies of hate and violence that are raging all around us. We recognise that, together, dissent and hope form the bedrock of a more progressive politics of solidarity based on the principle that struggle is continuous and that an injustice to one is an injustice to all.
We strive to place art, creativity and indeed, irreverent resistance against authority, at the heart of our struggles, protests and campaigns. Shakila Taranum Maan who is an artist by background, has often, together with others mobilised our users in banner making and other creative workshops to teach skills and give them a sense of ownership of the struggles waged. The organisation had no funds in the early days for arts activities or materials and so Shakila asked her father to get her car paints from the Ford factory where he worked. She then mixed and created her own colours. By default, all the SBS banners over the years have been created using ordinary gloss paint making them waterproof and practically indestructible – very useful during rain or snow! The early banners were extremely large but over the years, we have learnt to understand questions of size, shape, weight etc so that the persons carrying them will not be burdened with the weight.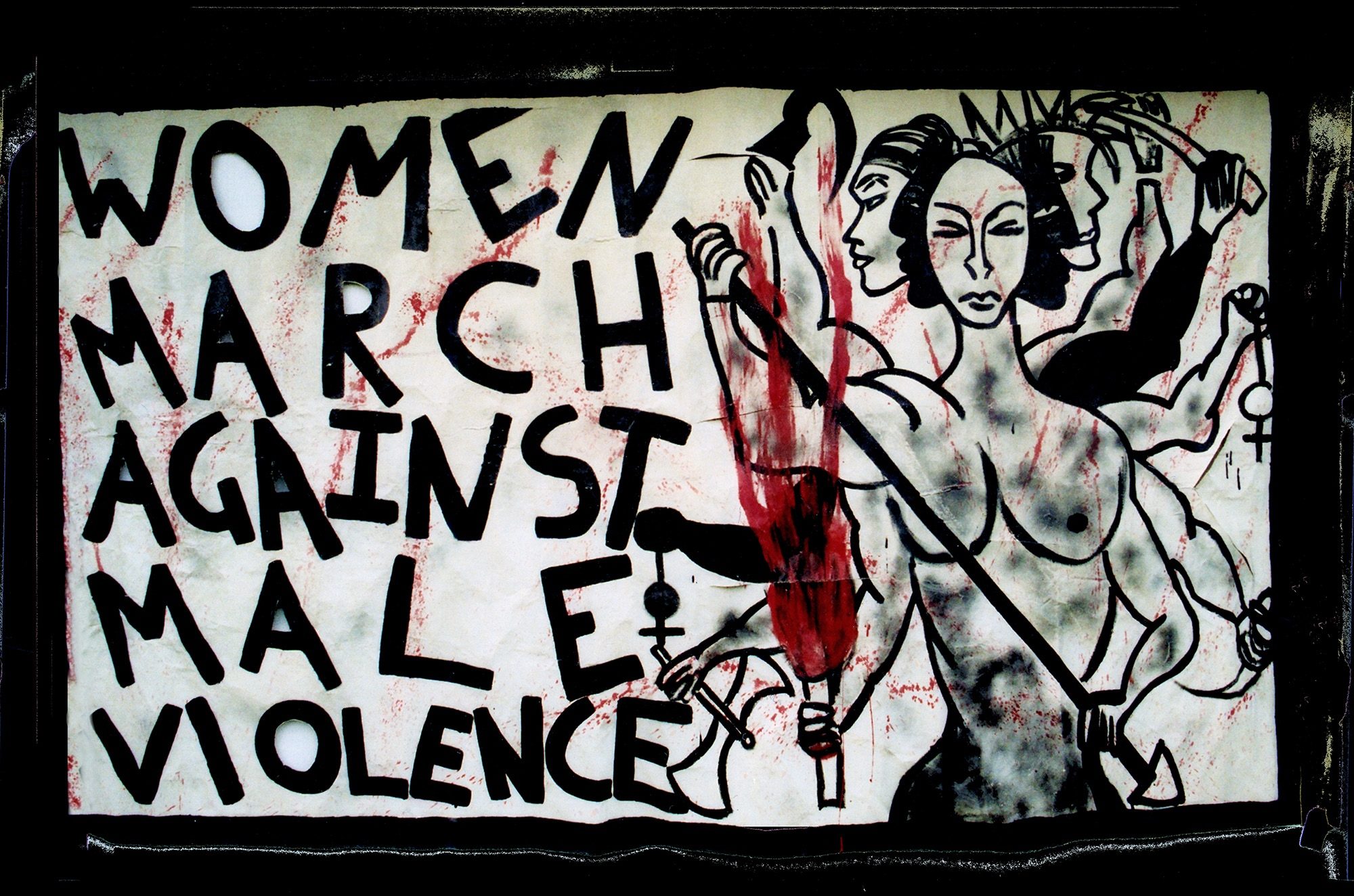 Women March Against Male Violence (1986) This banner was part of a larger series of banners that were created for a national demonstration to highlight violence against women organised by the Network of Women coalition initiated by SBS. This demonstration wound its way through London ending at the Imperial War Museum. The banner was based on a poster created to publicise the march that was a point of controversy in itself for depicting a naked woman. It took its inspiration from images of Indian Hindu female deities with many arms and heads which we used to represent various forms of patriarchal control, violence and injustice against women. In the banner, the colour red is used to interrupt the narrative of the neutral colours and the dominant black lines depicting the female goddess figure; the red represents the urgency of the struggle against violence against women and the indestructible nature of womanhood.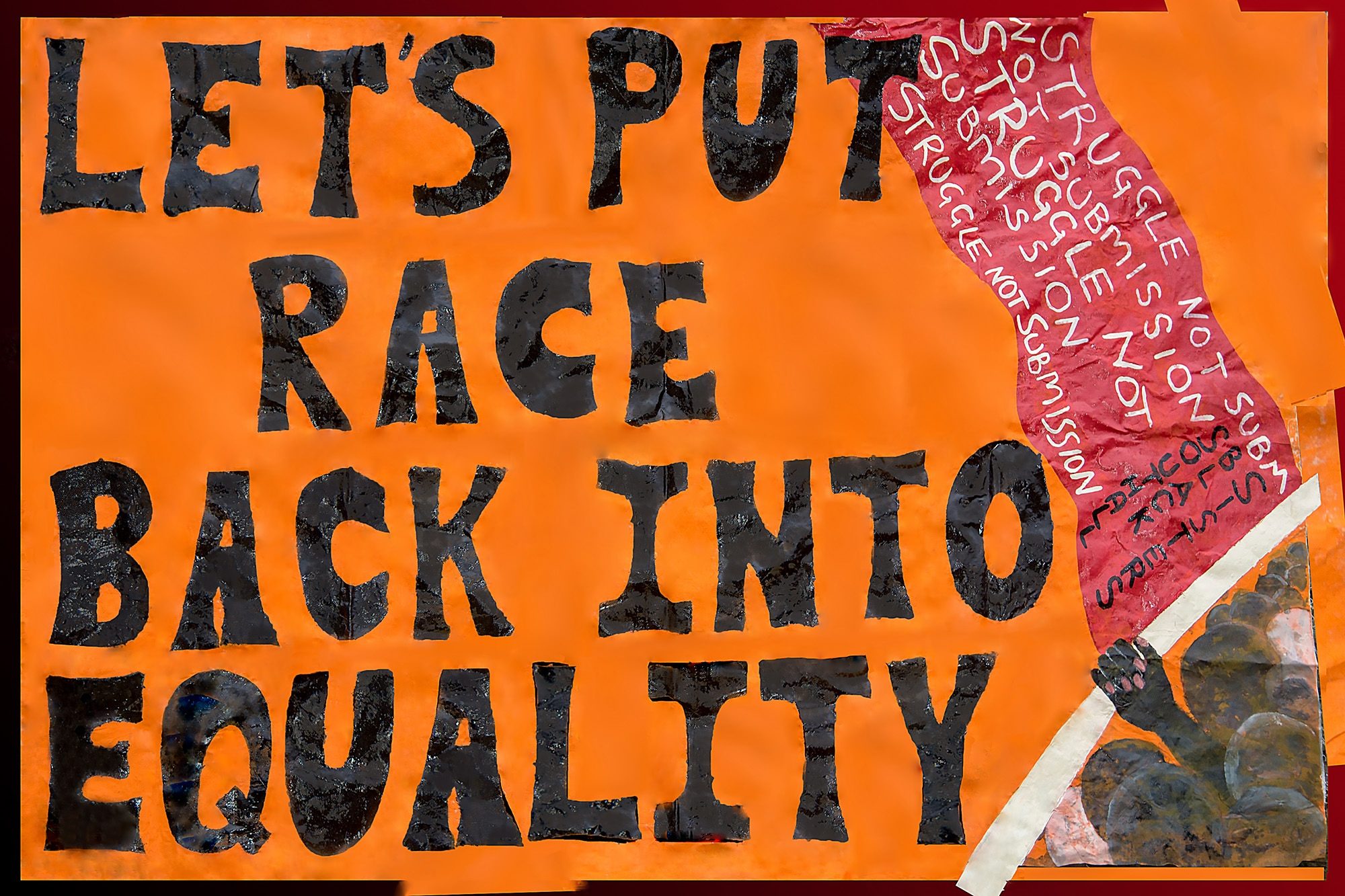 The banner Let's Put Race Back Into Equality (2008) was created specifically for our campaign in 2007 and 2008 to save SBS as a specialist service for black and minority women. It symbolised our perennial struggles for funding and for our very survival in the face of a hostile economic and political climate. We were compelled to mount a legal challenge to an attempt by our local authority to withdraw much needed funds for our services based on the flawed assumption that we were living in a post-racial society and the interests of social cohesion and integration were being undermined by the existence of specialist services like ours, because we catered specifically for black and minority women. What began as a local campaign for funding turned into a significant struggle for the very meaning of equality itself. The banner had to be bright, draw immediate attention to the history of SBS and bring to the forefront the struggle against racism which was assumed to have been won! In this instance; "struggle not submission" became the sub-slogan and the visuals of faceless women of different shapes and races marching forward sought to deliver a message of defiance, solidarity and ongoing struggle. The colour red again was used used to interrupt/show movement within the banner to cut through the dominant colour as an ongoing narrative of SBS protests.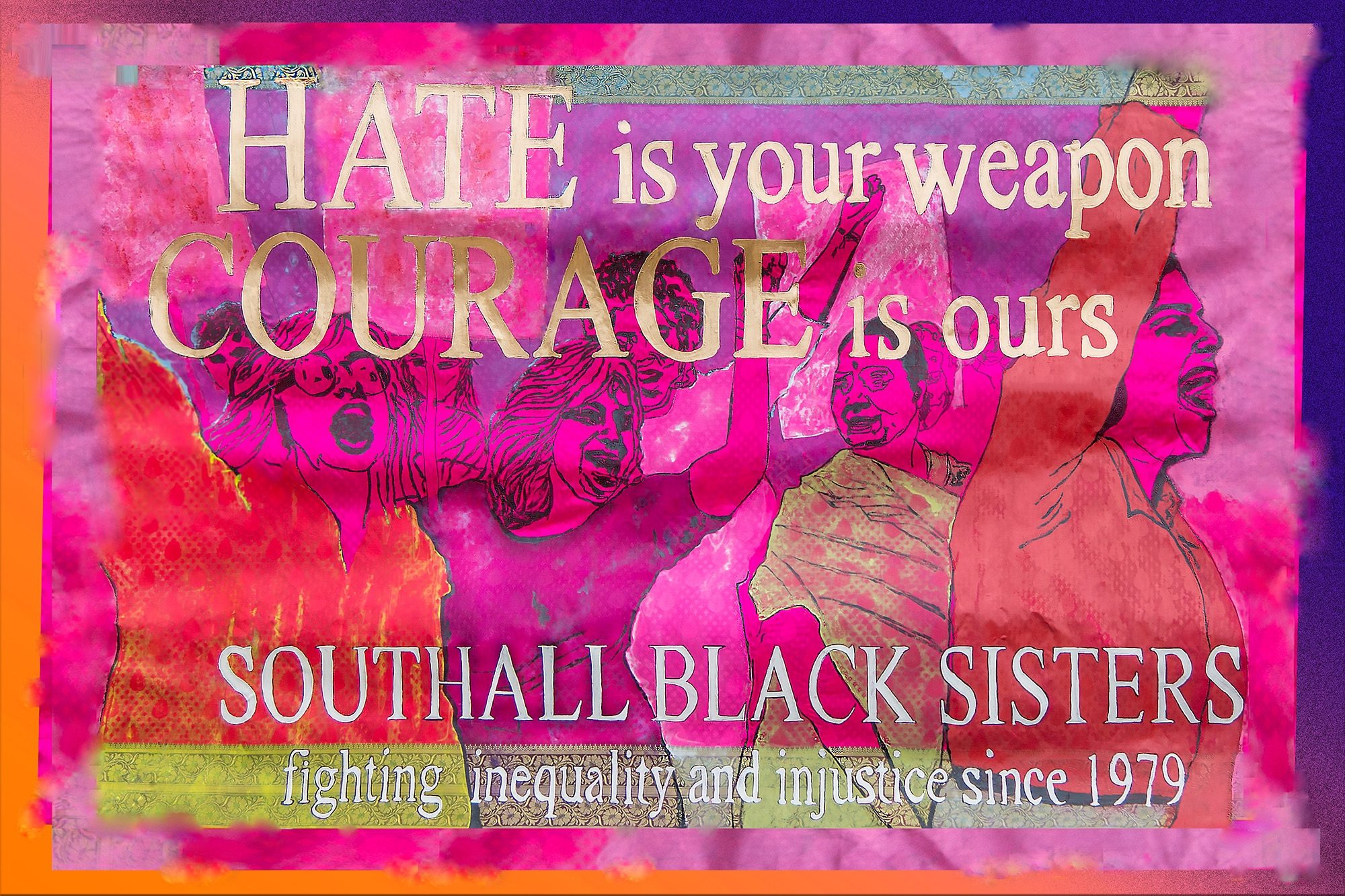 The Hate Is Your Weapon Courage Is Ours (2018) banner was created especially for the Anti-Trump demonstration in London in 2018. Along with many others, we were in despair at the racist, misogynist and hate filled, authoritarian turn in politics in the US and its impact on women and the most marginalised and the poor. The brief was to create a banner that symbolised our challenge to everything that Trump stood for but at the same time, celebrated the joyous and life affirming values that we want to live by. Pink had to be a dominant colour of dissent and defiance. For this banner, we had some funds, so we bought a bright pink sari and used the silhouette of an image of members of SBS protesting outside Ealing Town Hall in 2008 against its funding decision (described above). Purples, yellows, lime greens and oranges formed a riot of colours that seemed apt given the eventual carnival atmosphere, involving dance, music, and witty jokes, generated by the demonstration. The colours of the banner give greater focus to the outline of figures in protest and the by-line 'fighting inequality and injustice since 1979' refers to the continuity of a struggle that began in 1979. Shakila had more time to create this banner and so took the opportunity to bring a greater element of artistry than was possible for the previous banners which were often rushed to serve the needs of our campaigns.
Pragna Patel is the founder and Director of Southall Black Sisters (SBS). Shakila Taranum Maan is an award winning writer, director and producer based in London. SBS is a multi-award-winning women's organisation founded in 1979 to address the needs of black and minority women experiencing gender violence. Their work challenges domestic and gender-related violence locally and nationally. Please visit their website to find out more and support their vital work: