The curator of The Peace Museum, Bradford, gives us a guided tour of one part of their wonderful collection: badges made to advocate for peace and nuclear disarmament.
The Peace Museum in Bradford is the only accredited museum of its kind dedicated to peace history in the United Kingdom: we tell the often-untold stories of peace, peacemakers, social reform and peace movements. The museum cares for a varied collection consisting of posters, placards, banners, everyday objects, leaflets, artworks and badges. I have worked at the museum for seven years now - my first role was a Collections intern, and one of my first tasks was to help audit the collection, which included painstakingly marking and checking all the badges. Badges are an important tool in the peace movement, and we hold almost two thousand of them in our collection.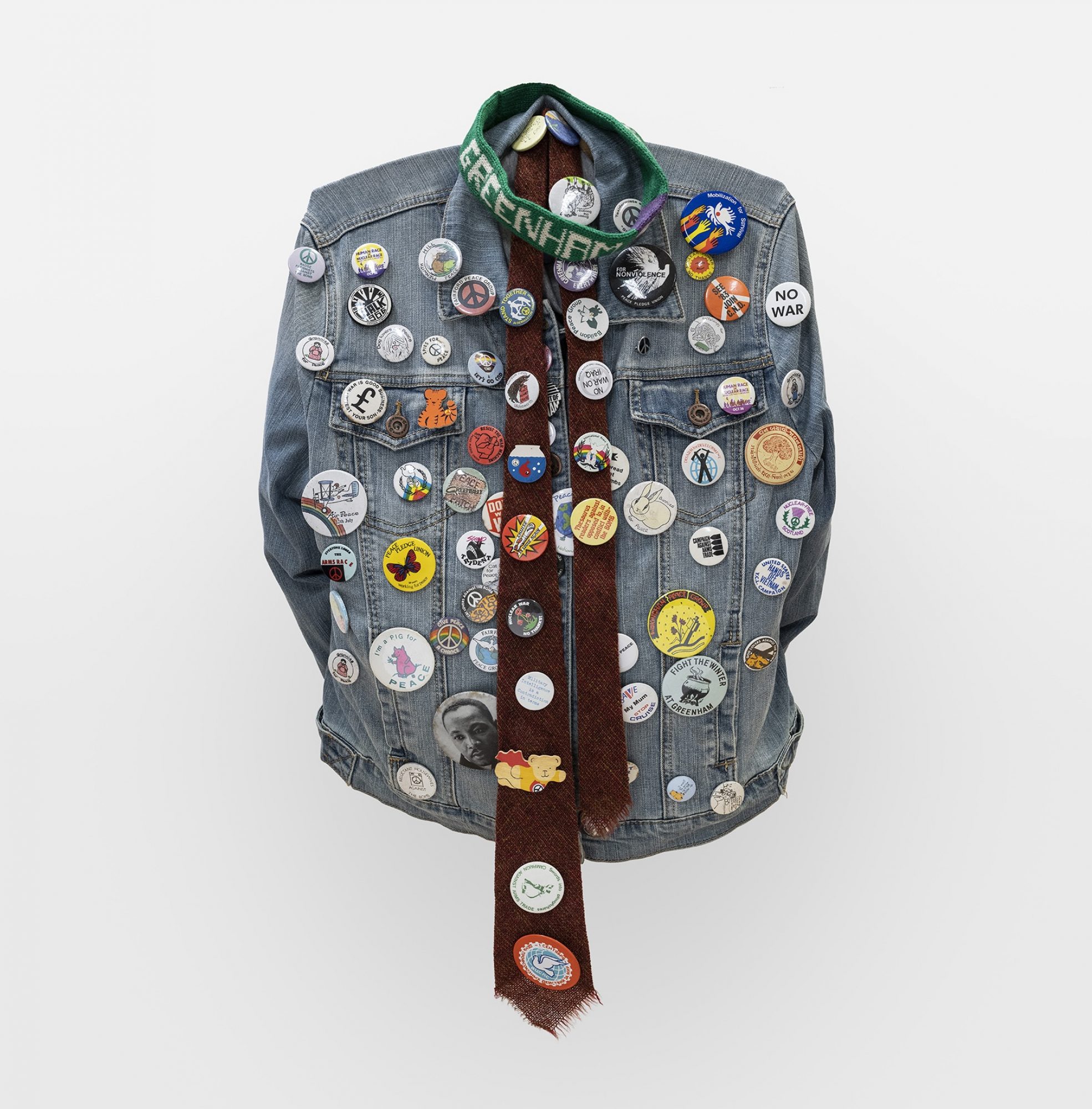 The purpose of a badge is to communicate a message with others, to show who or what you stand for, they are used as a symbol. Badges go by other names such as buttons (a term used more by Americans), signs and medals, and can be made from various materials such as plastic or metal, and mostly show images with just a few words.
Peace activists were not the first to use badges to represent and promote their cause; their origins can be traced as far back as the late Middle Ages, when they were worn by Lords to identify their loyalties.
They were, and still are used in politics, by the military, trade unions and other social reform movements such as environmental activist groups like Extinction Rebellion. Another popular use today is as souvenirs; they are sold all over the world, and we even sell Peace Museum badges. The longevity and history of badges shows their cultural importance and proves they are here to stay.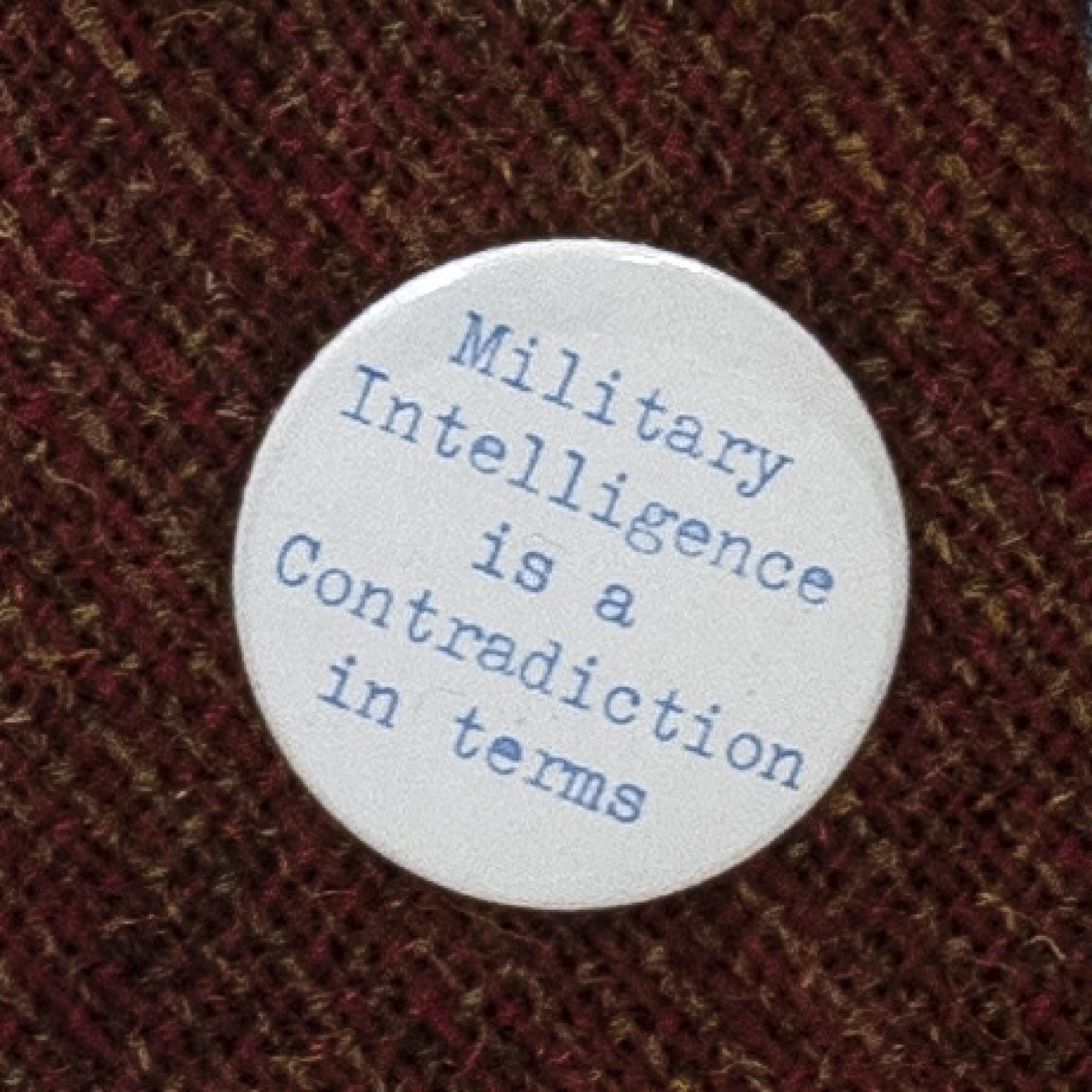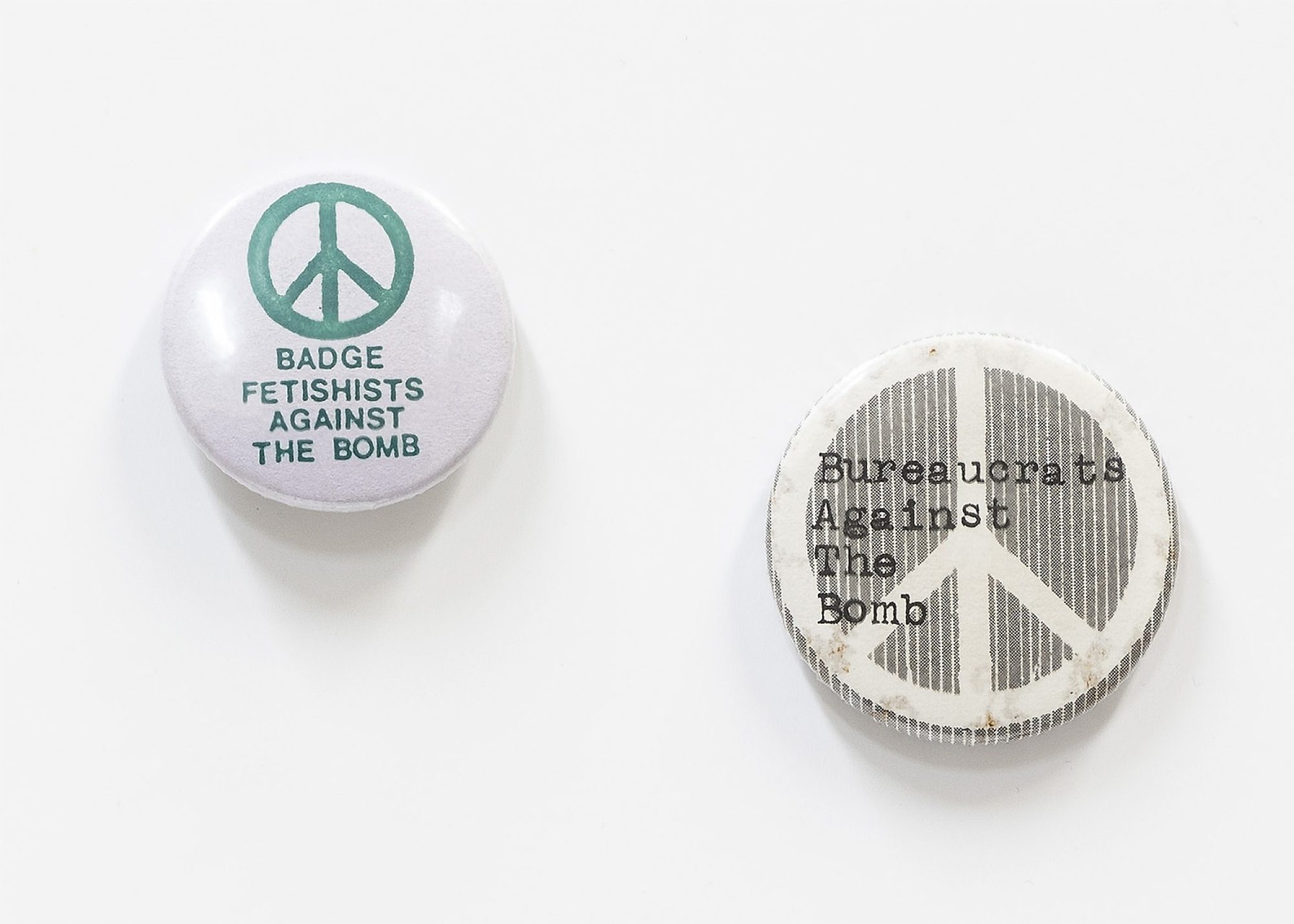 The aftermath of the atomic bombs dropped on Hiroshima and then Nagasaki in 1945 saw death and devastation, and heralded increased atomic testing worldwide. By the 1950s, a nuclear war was a real threat and CND was formed. Campaign for Nuclear Disarmament (CND) does exactly as its name suggests and has stood against nuclear armament since its first public gathering and first march from the Atomic Weapons Research Establishment at Aldermaston, both in 1958.[1] At the museum we hold a significant number of items linked to CND including badges from the 1980s. These 'badges against the bomb' are some of our most popular badges and show the variety of different groups that stand against 'the bomb', everyone can find a badge that embodies them. Some of the groups include 'Dog Lovers', 'Super Grans' and 'Ageing Hippies'. These novelty vintage badges are still sold by CND today. Check out the Yorkshire CND website to buy your own.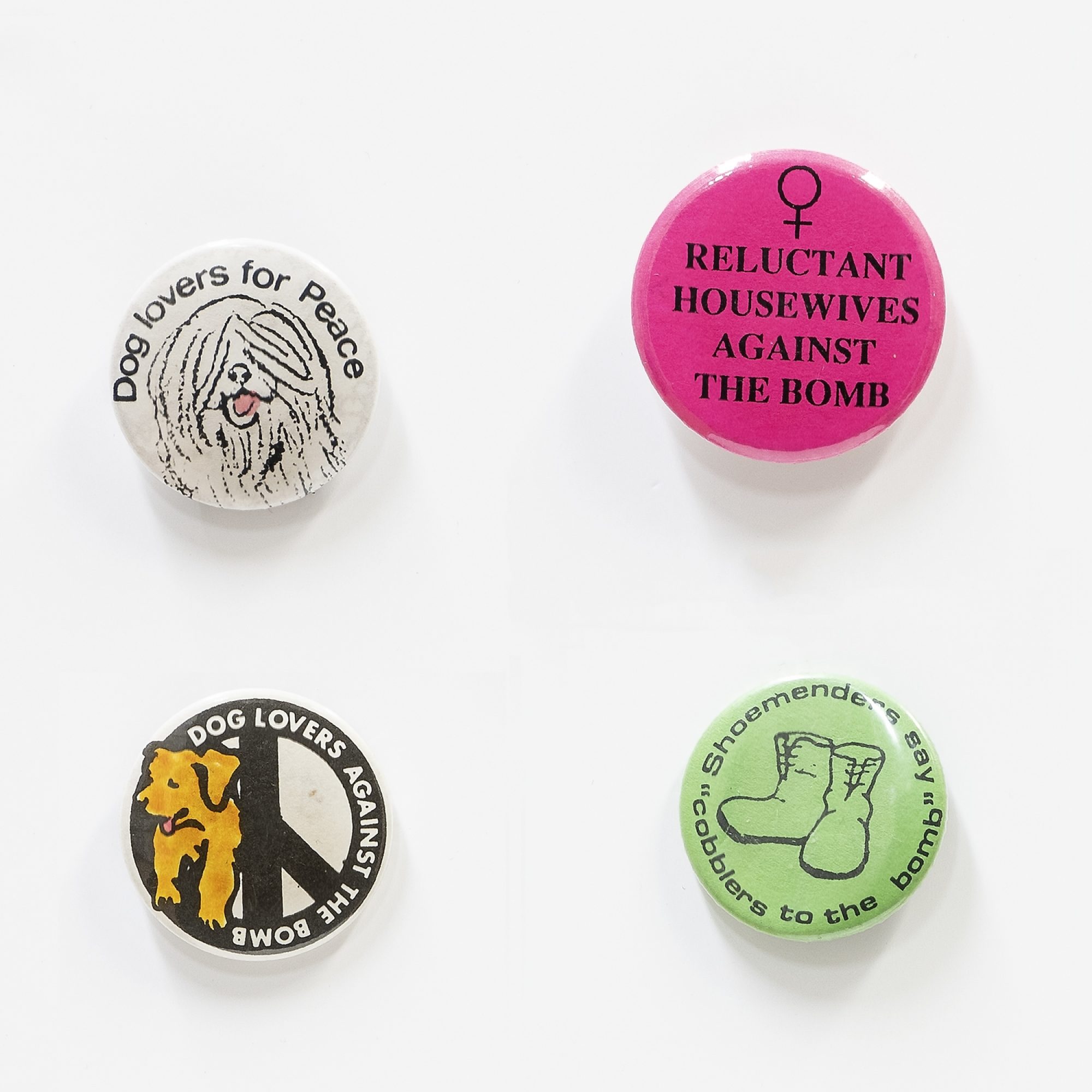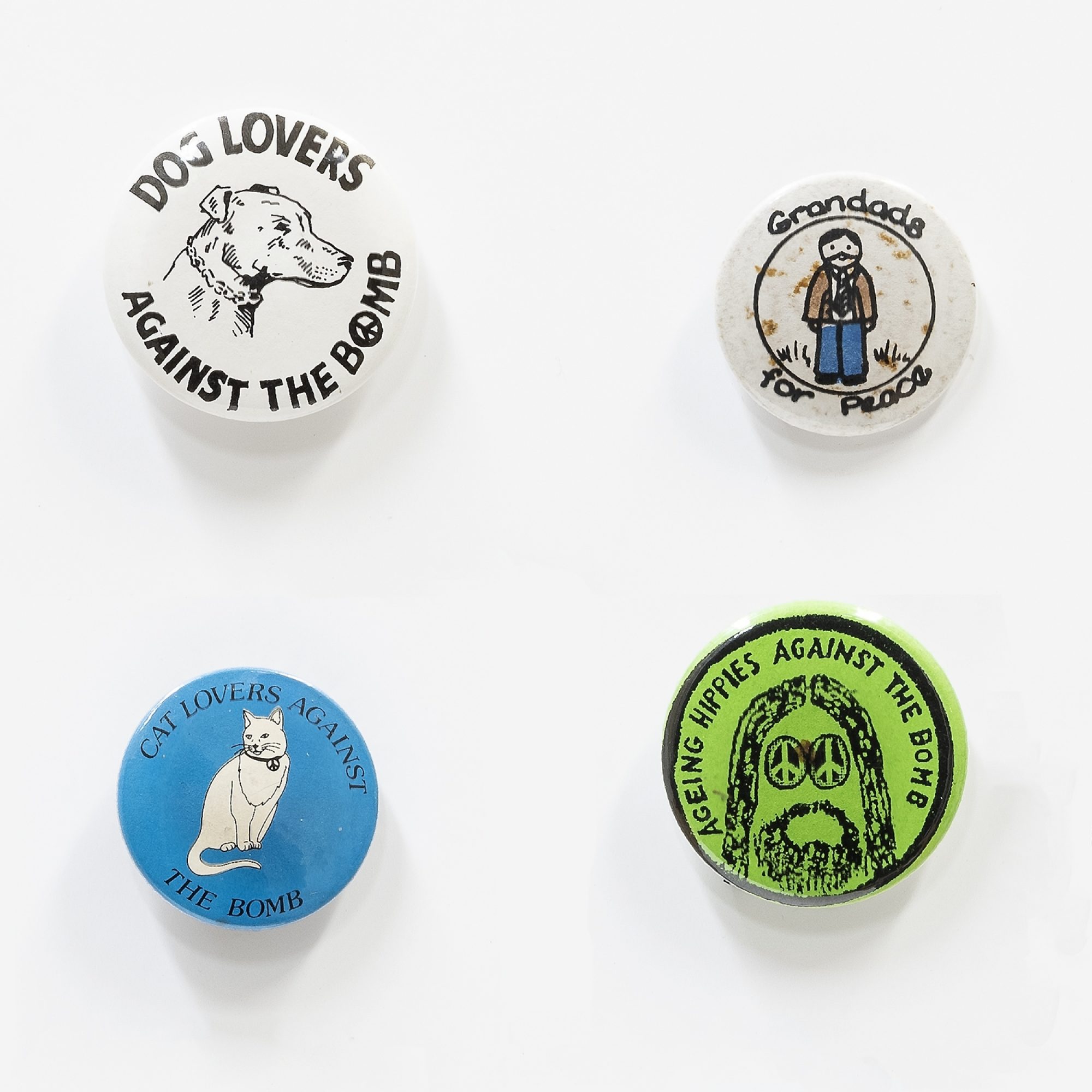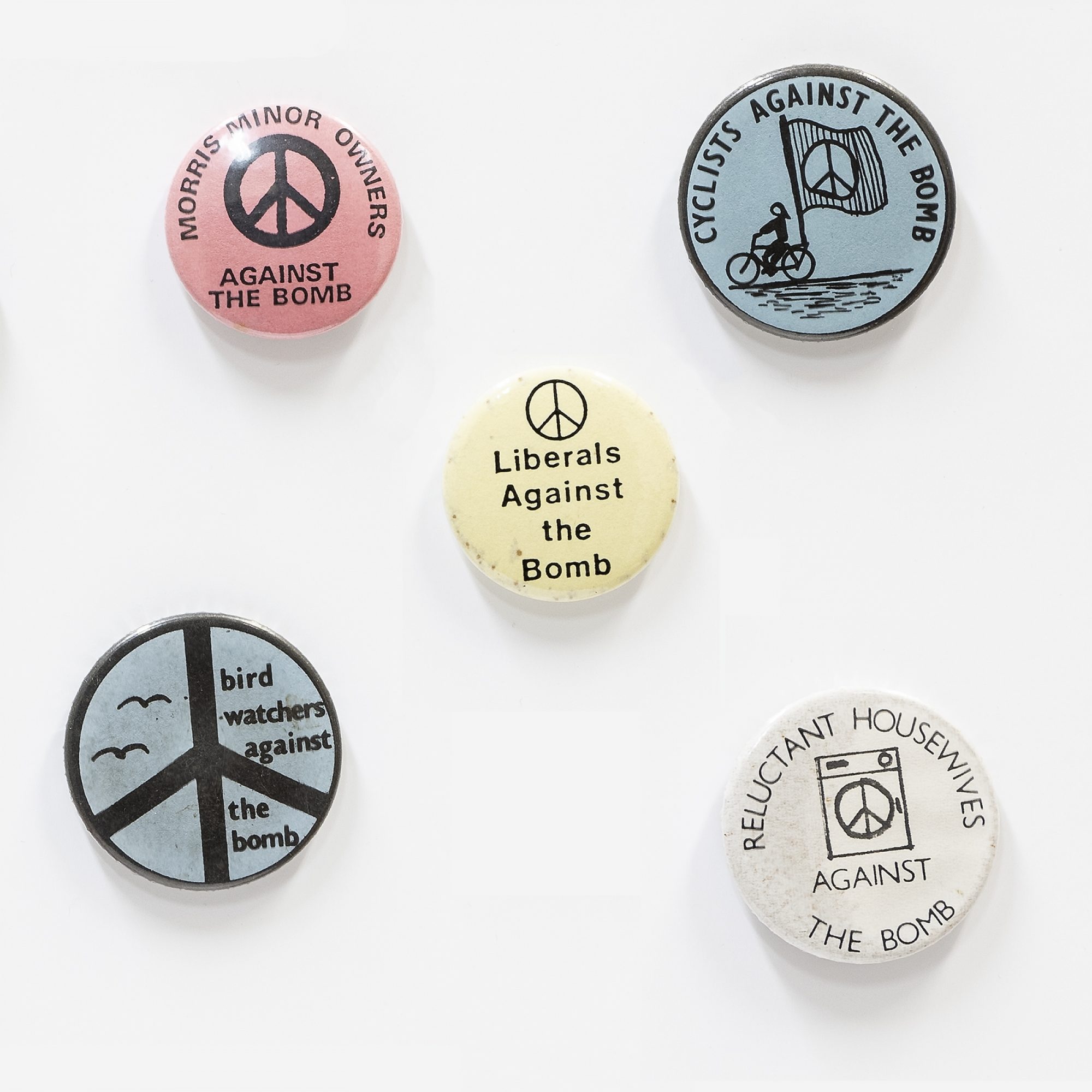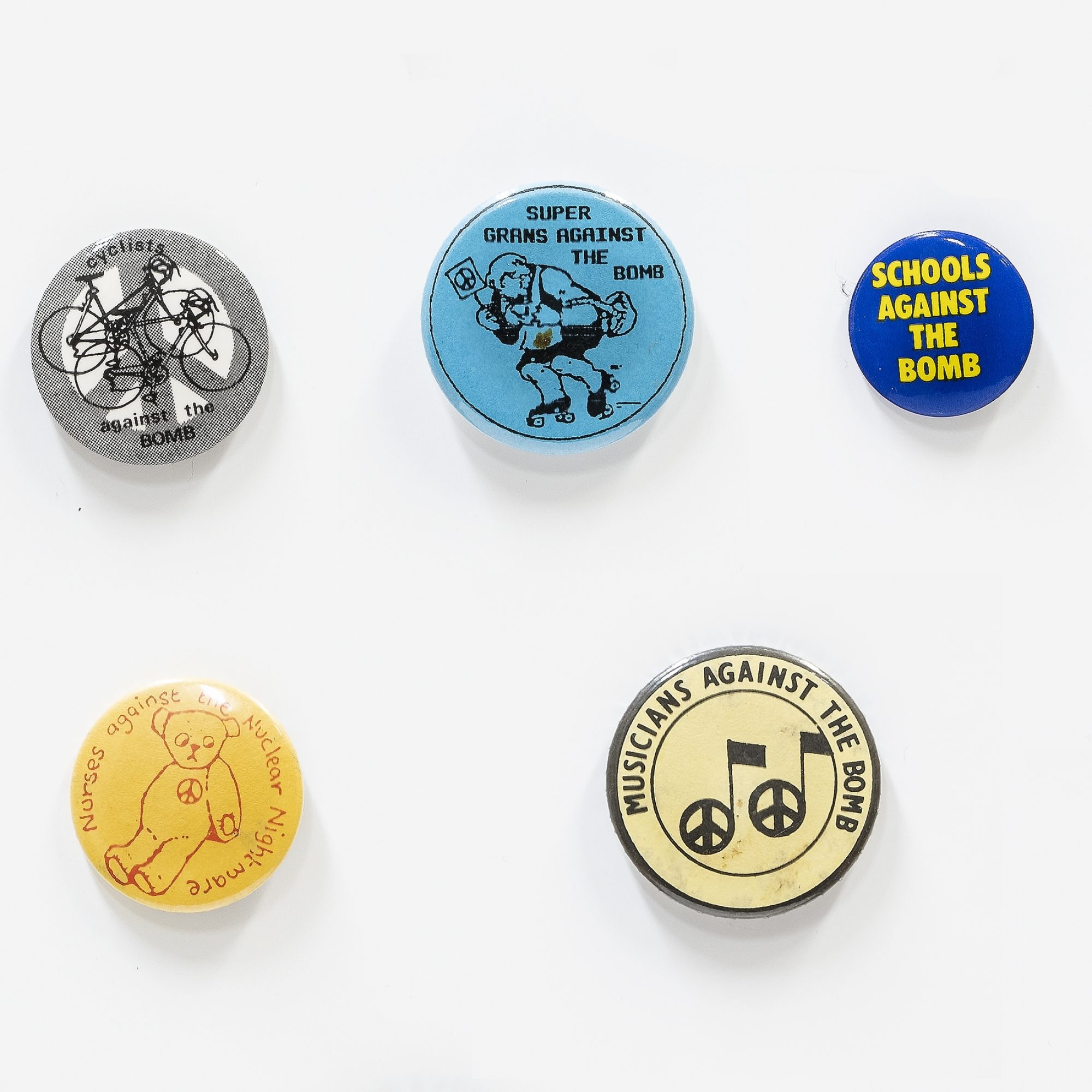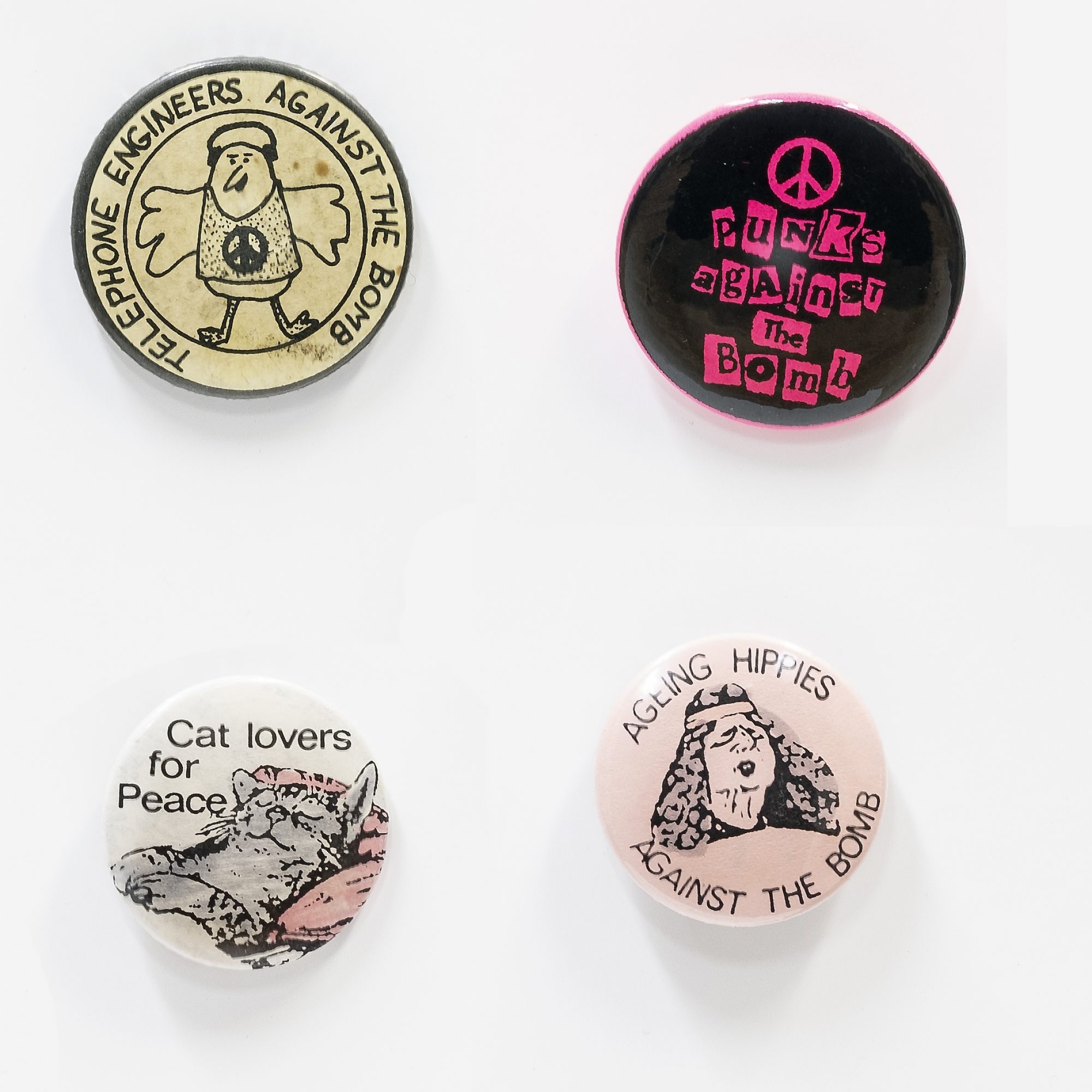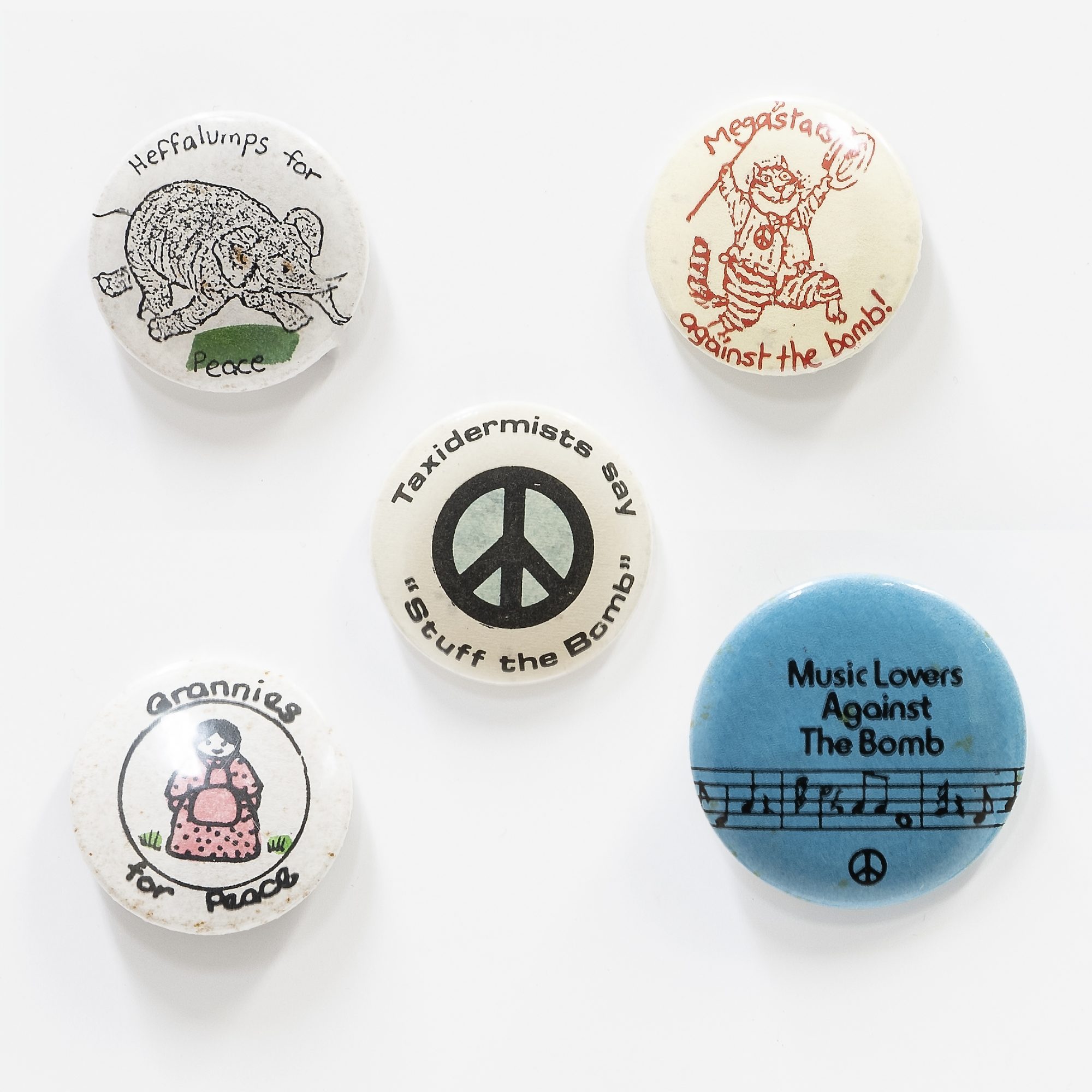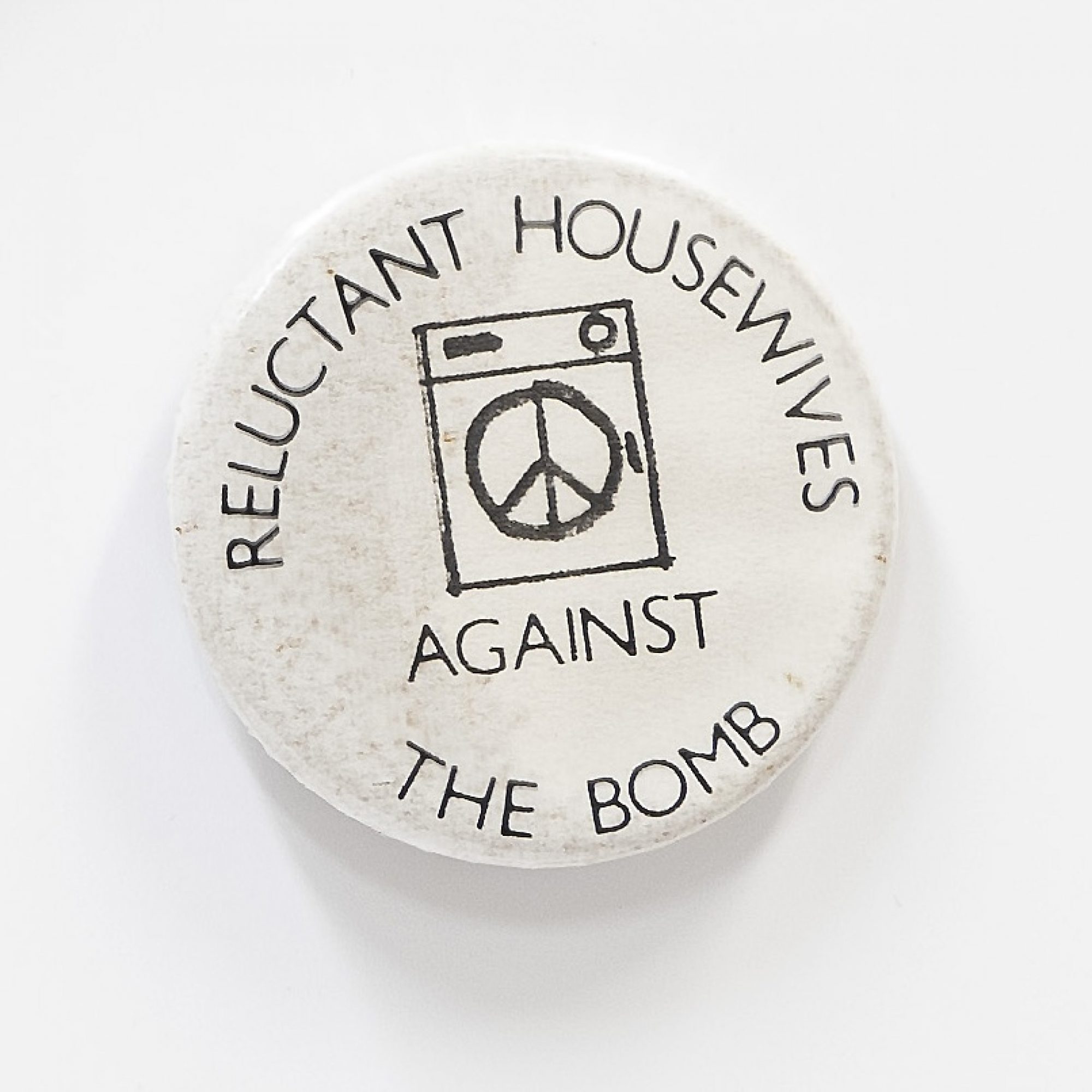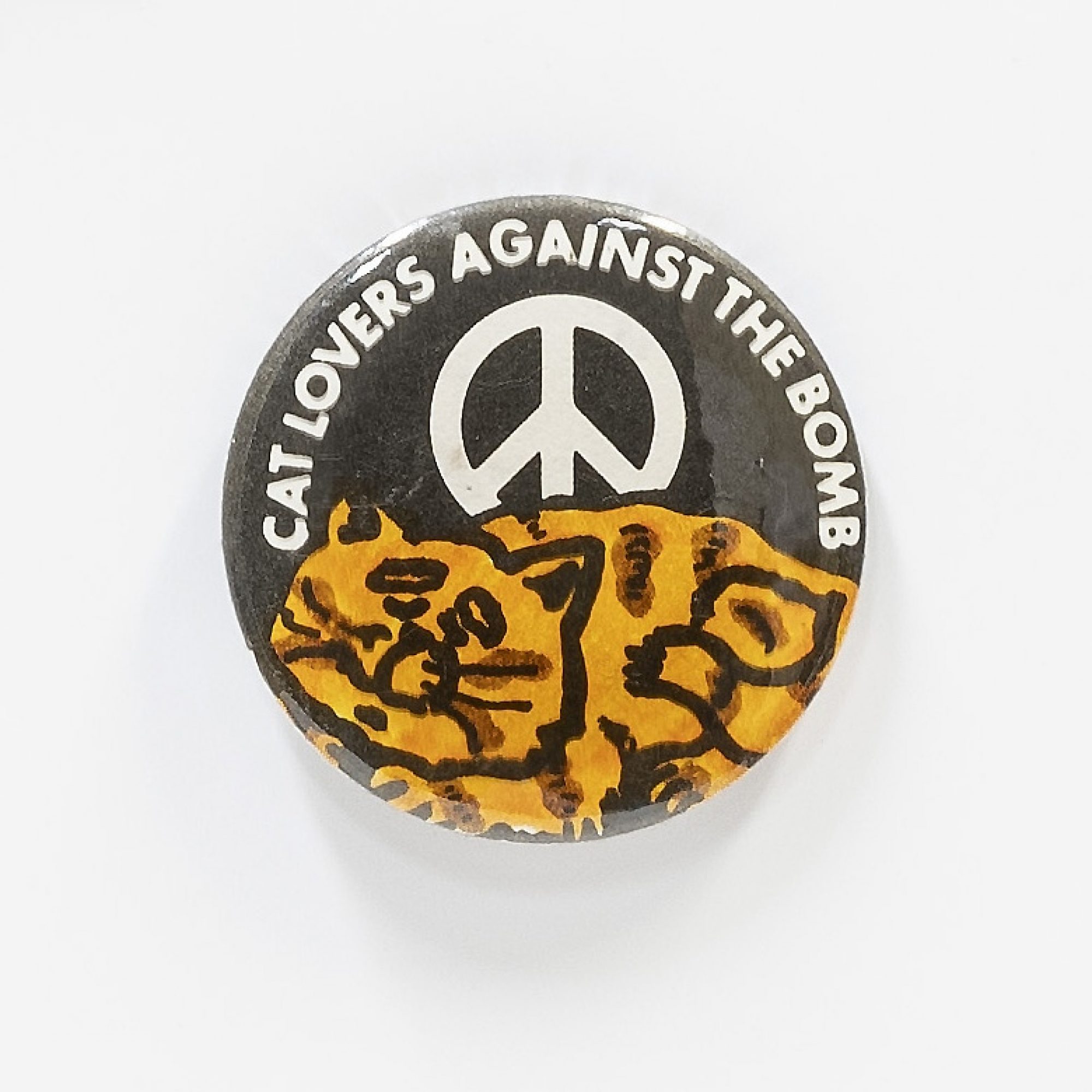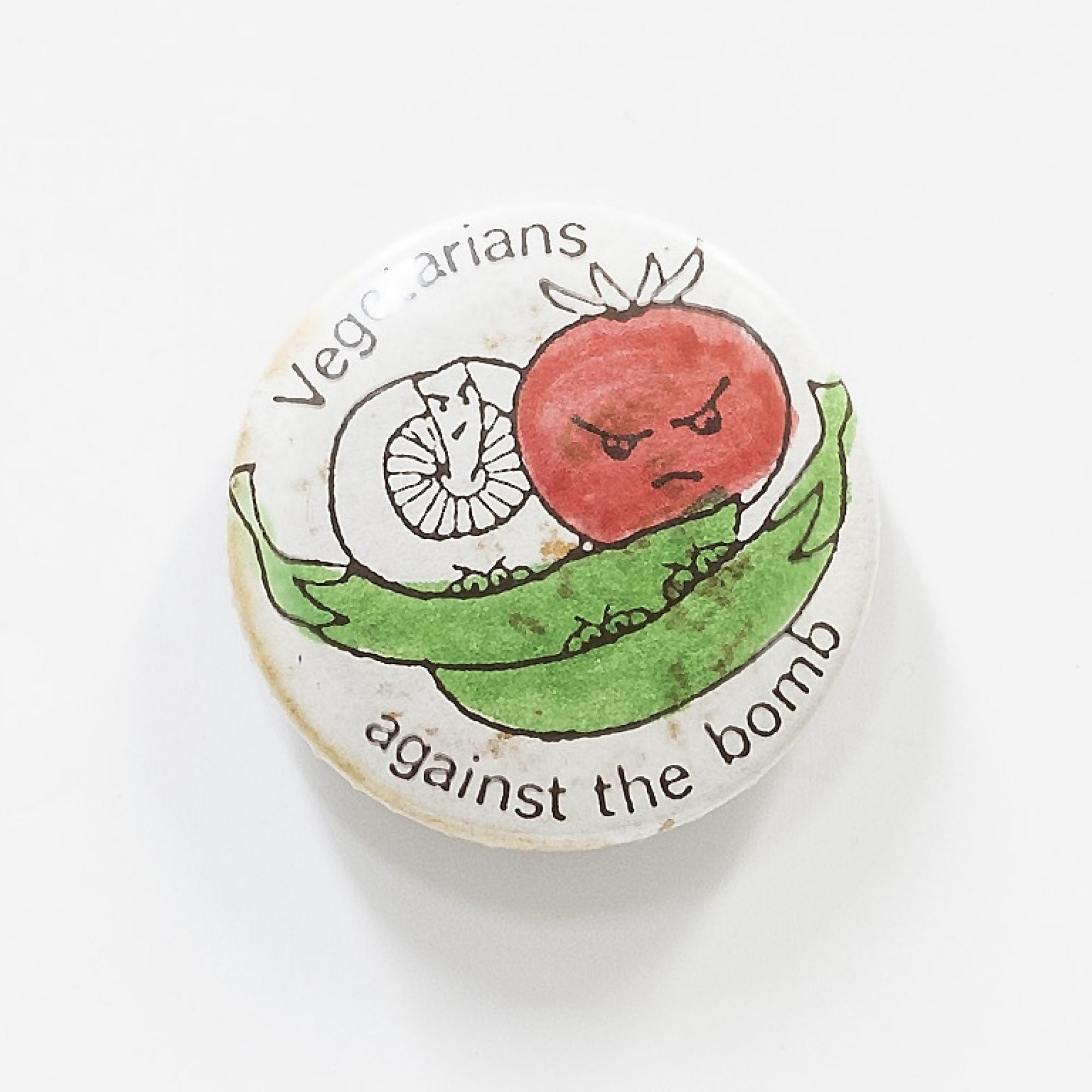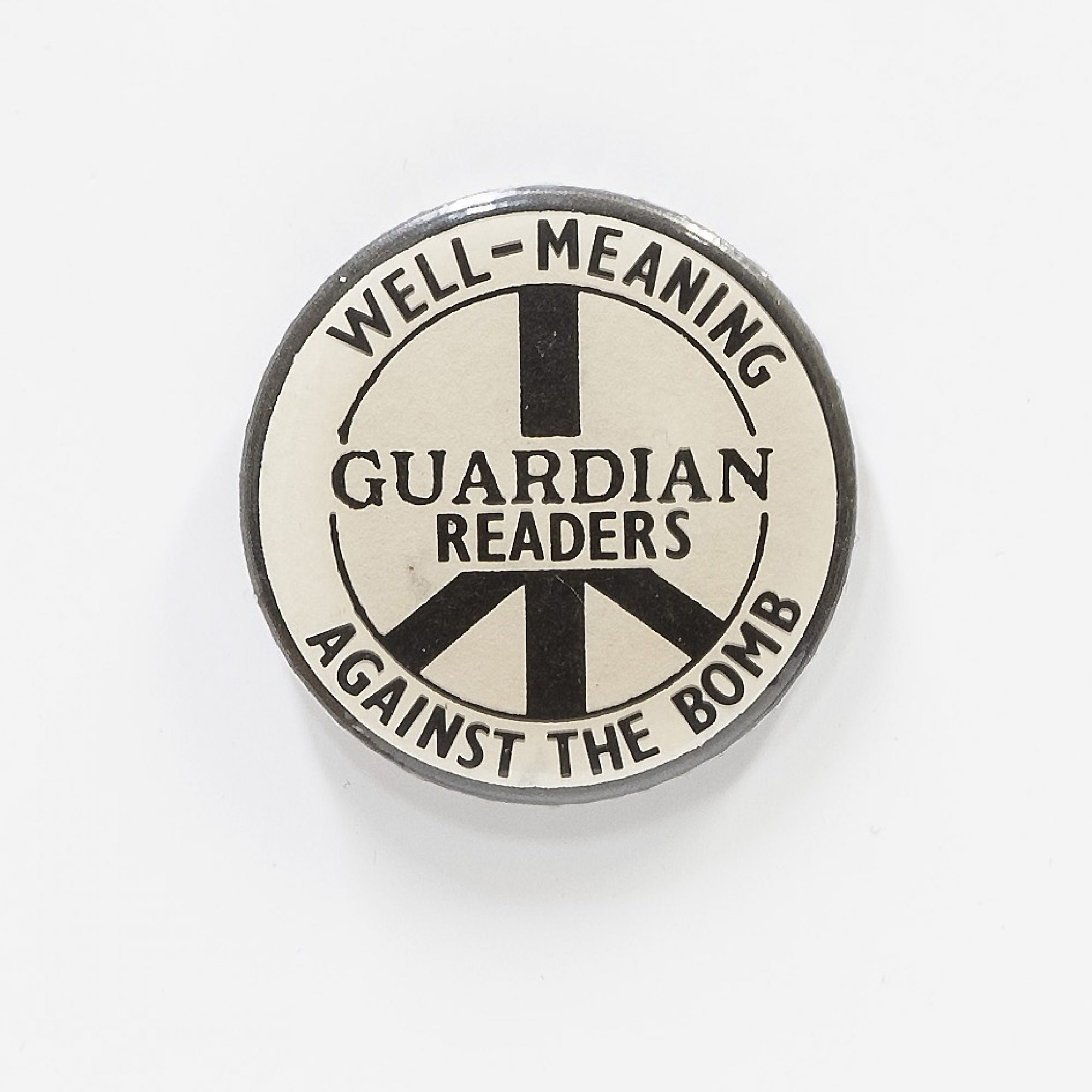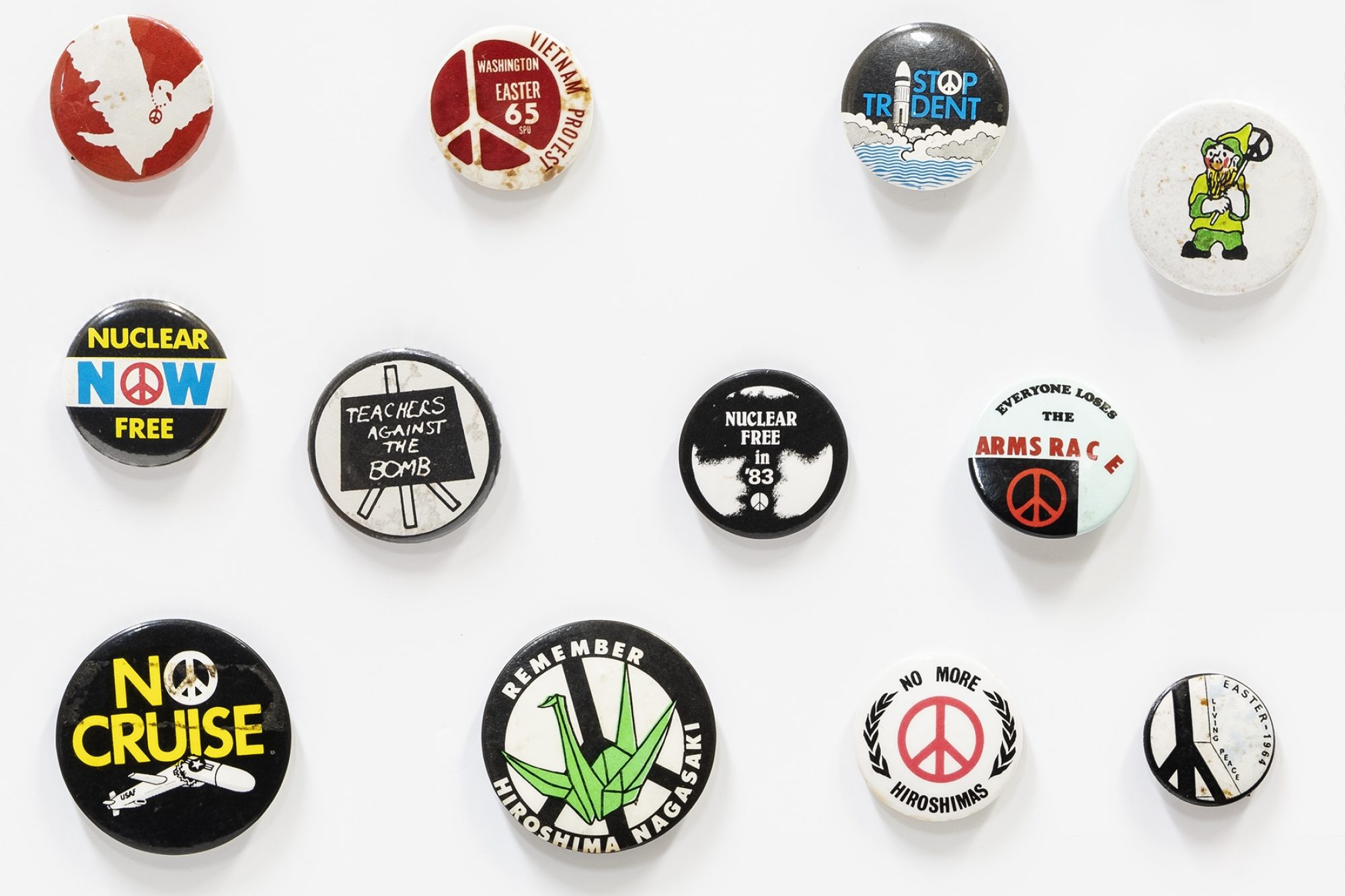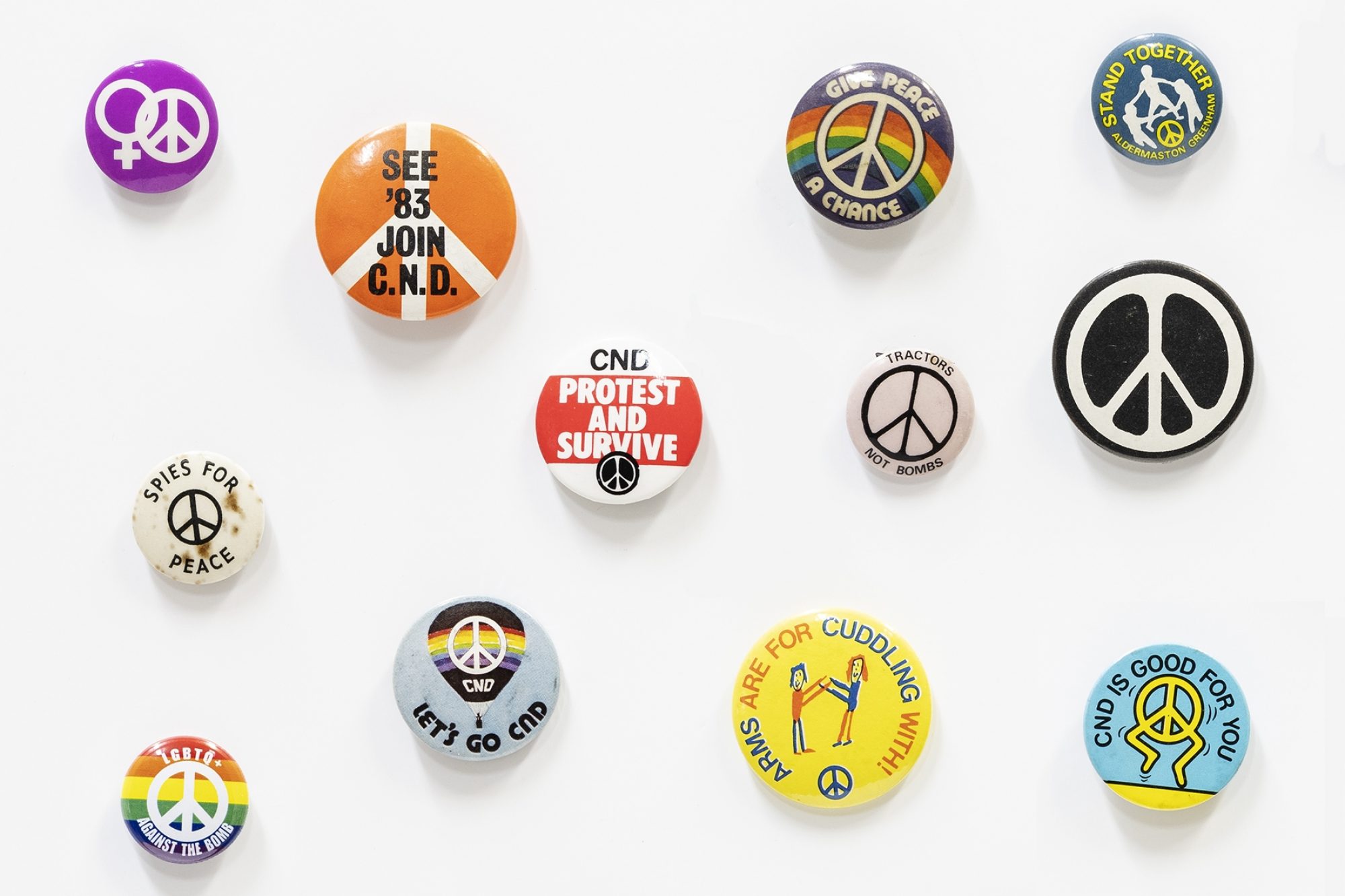 The CND logo, or symbol for nuclear disarmament, is known worldwide as the peace symbol. The museum is lucky enough to hold the original CND badges in our collection. They are hand-made ceramic badges created by Eric Austen in 1958. The symbol itself was designed in 1958 by artist and designer Gerald Holtom. He deliberately never applied copyright to the symbol so it could be freely used by everyone and anyone, and it incorporates the semaphore letters N and D, for nuclear disarmament.

The symbol can be found on many items in our collection including more recent badges, and the symbol is instantly recognised as standing for peace. My favourite one from this collection is the Super Ted badge: CND produced several different teddy badges that people collect.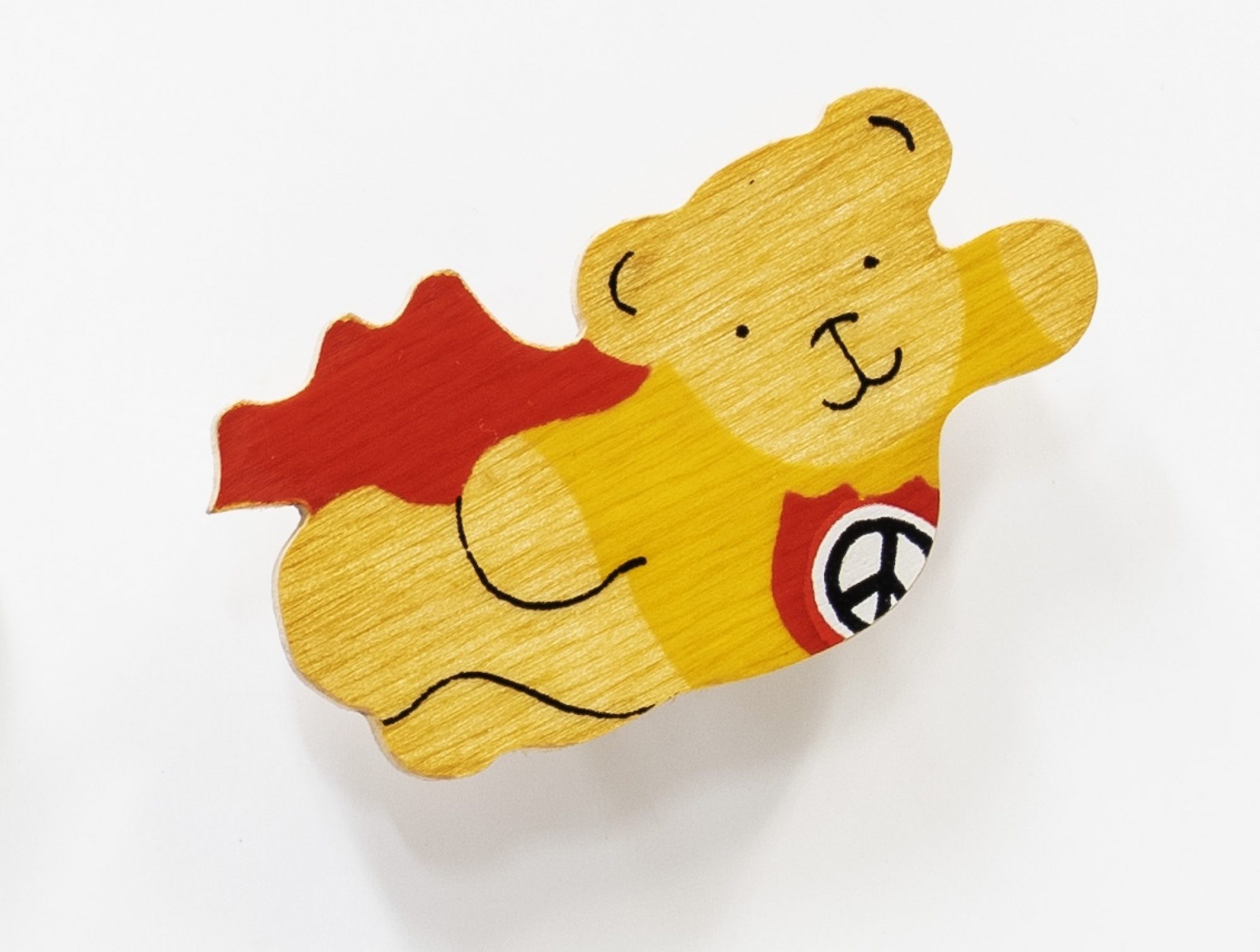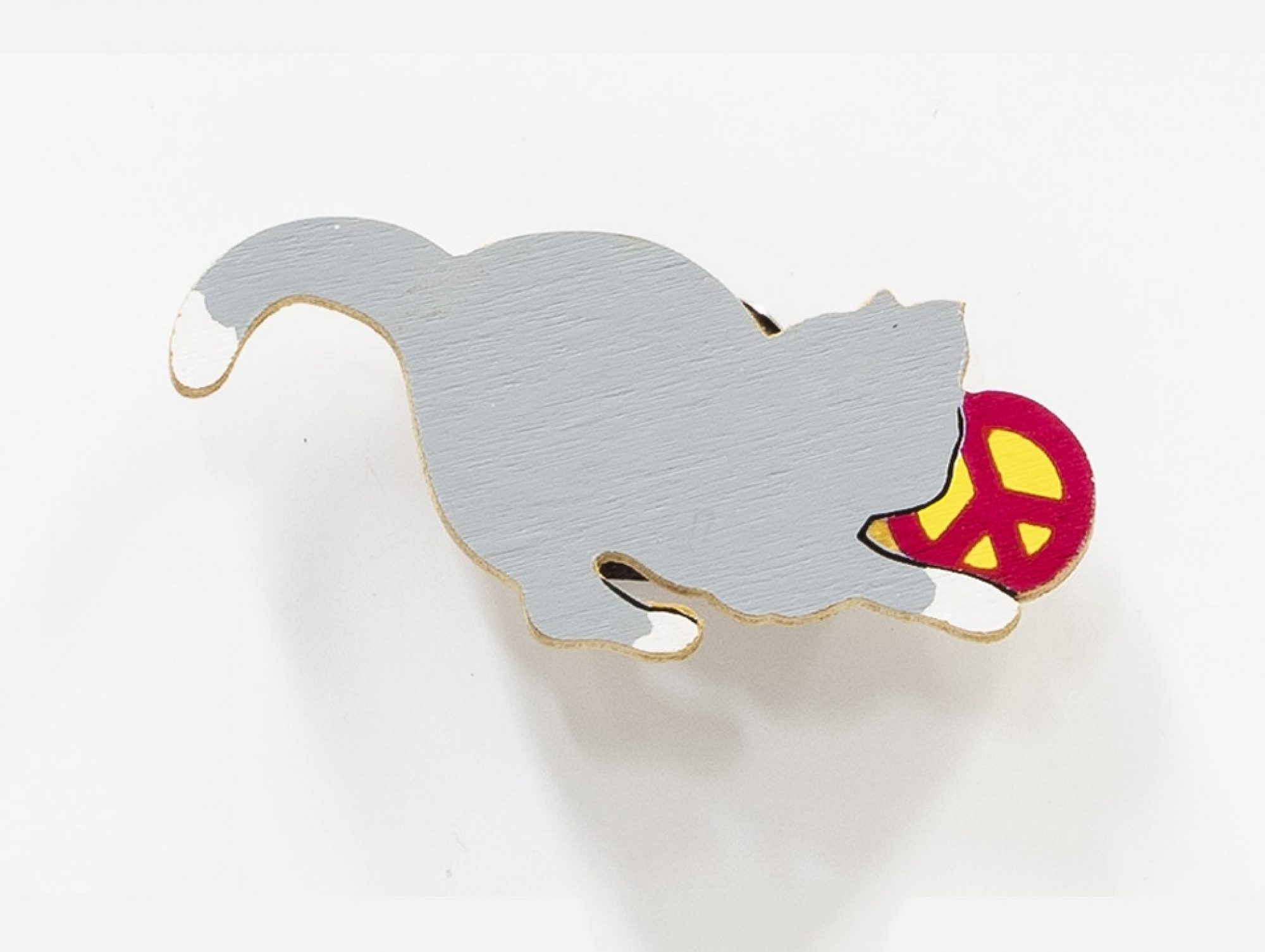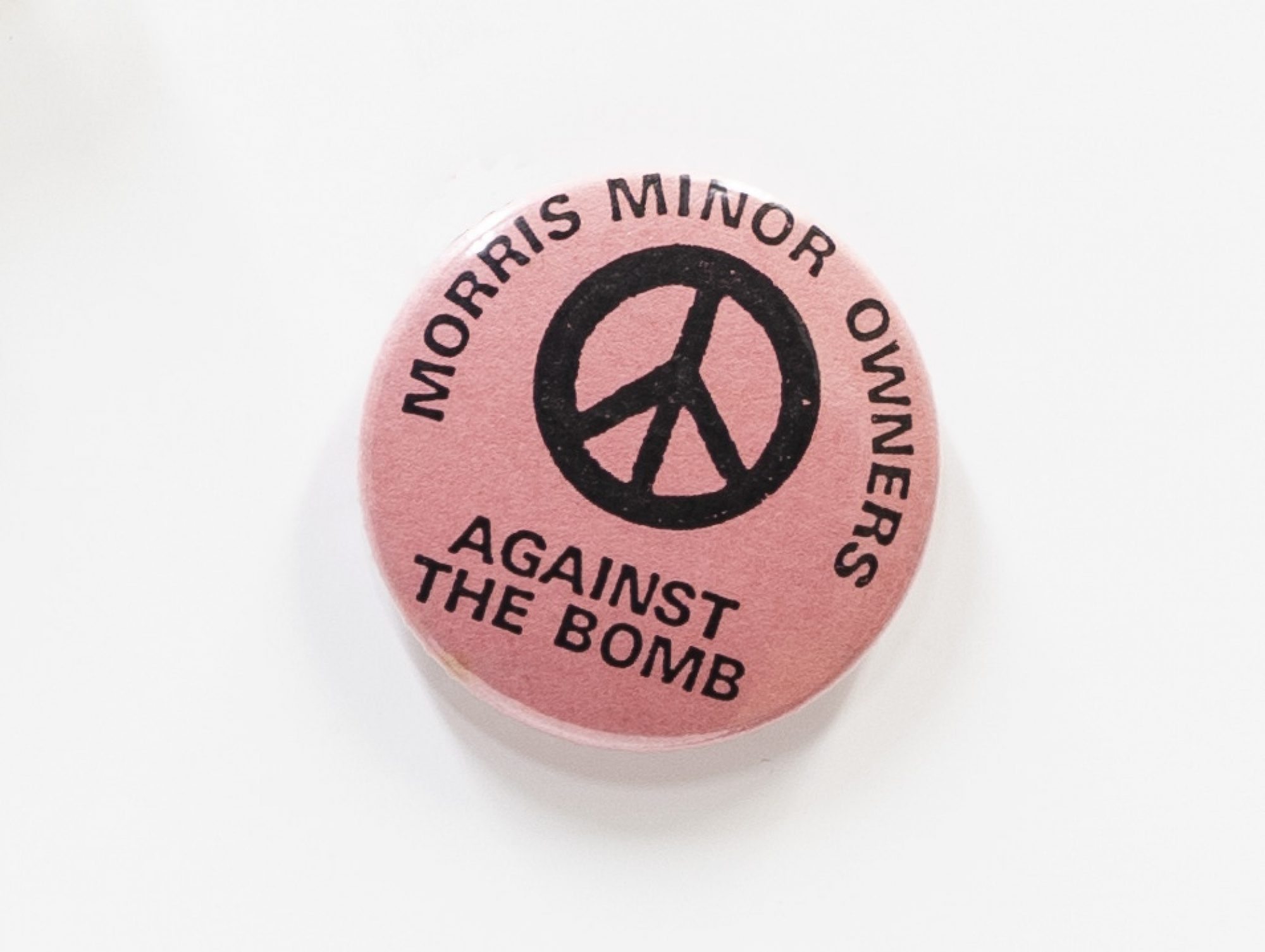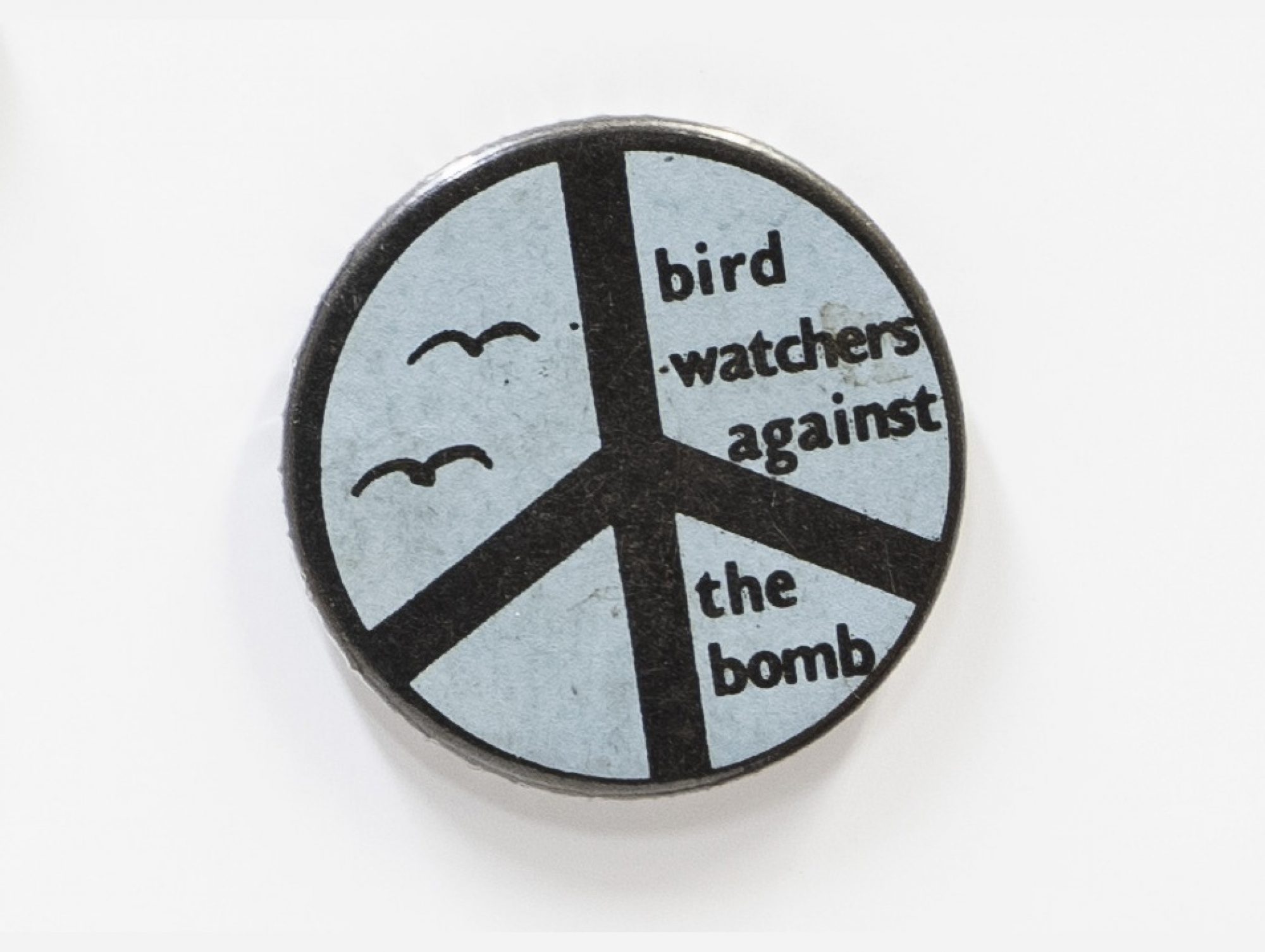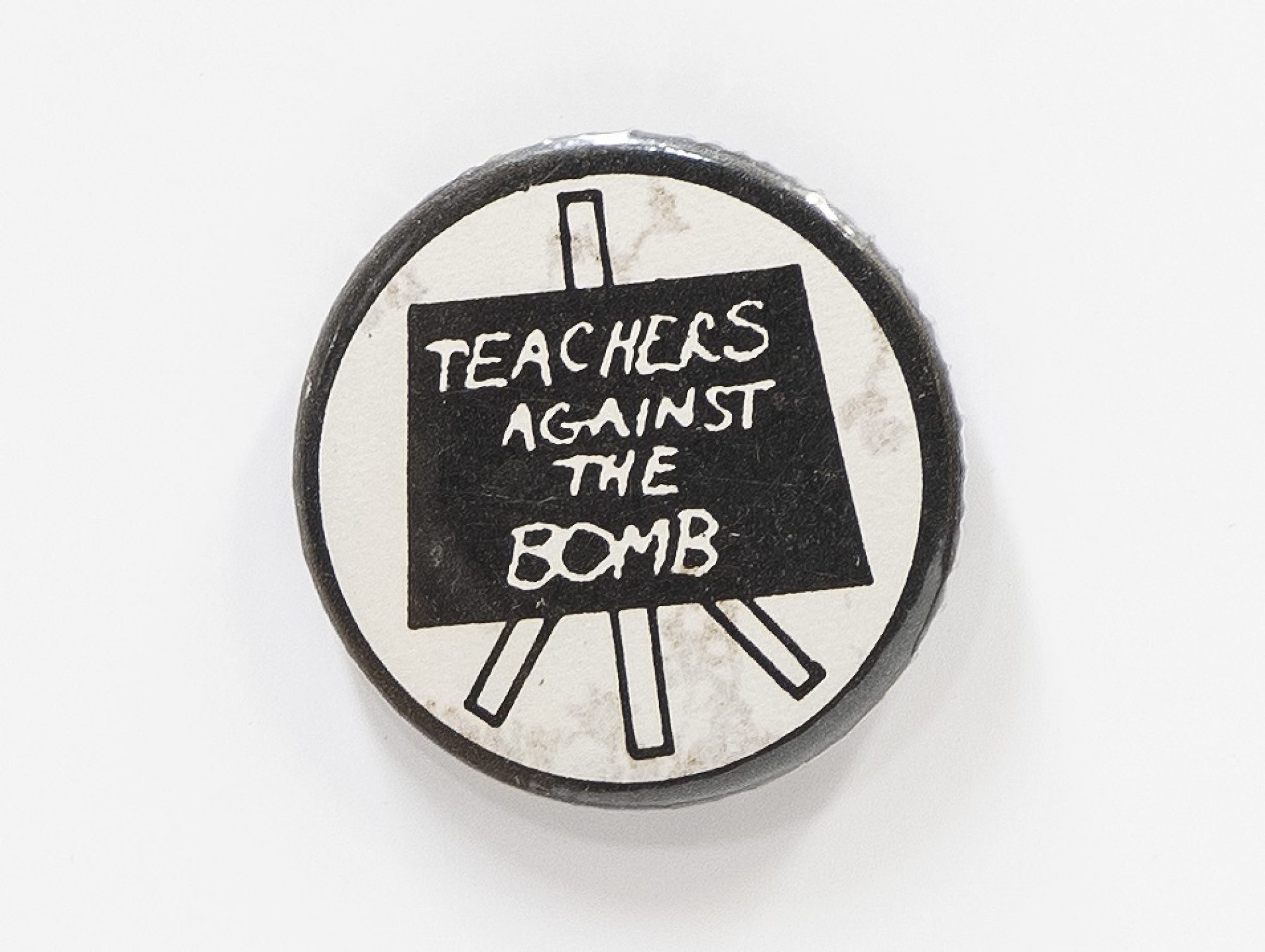 Greenham Common Women's Peace Camp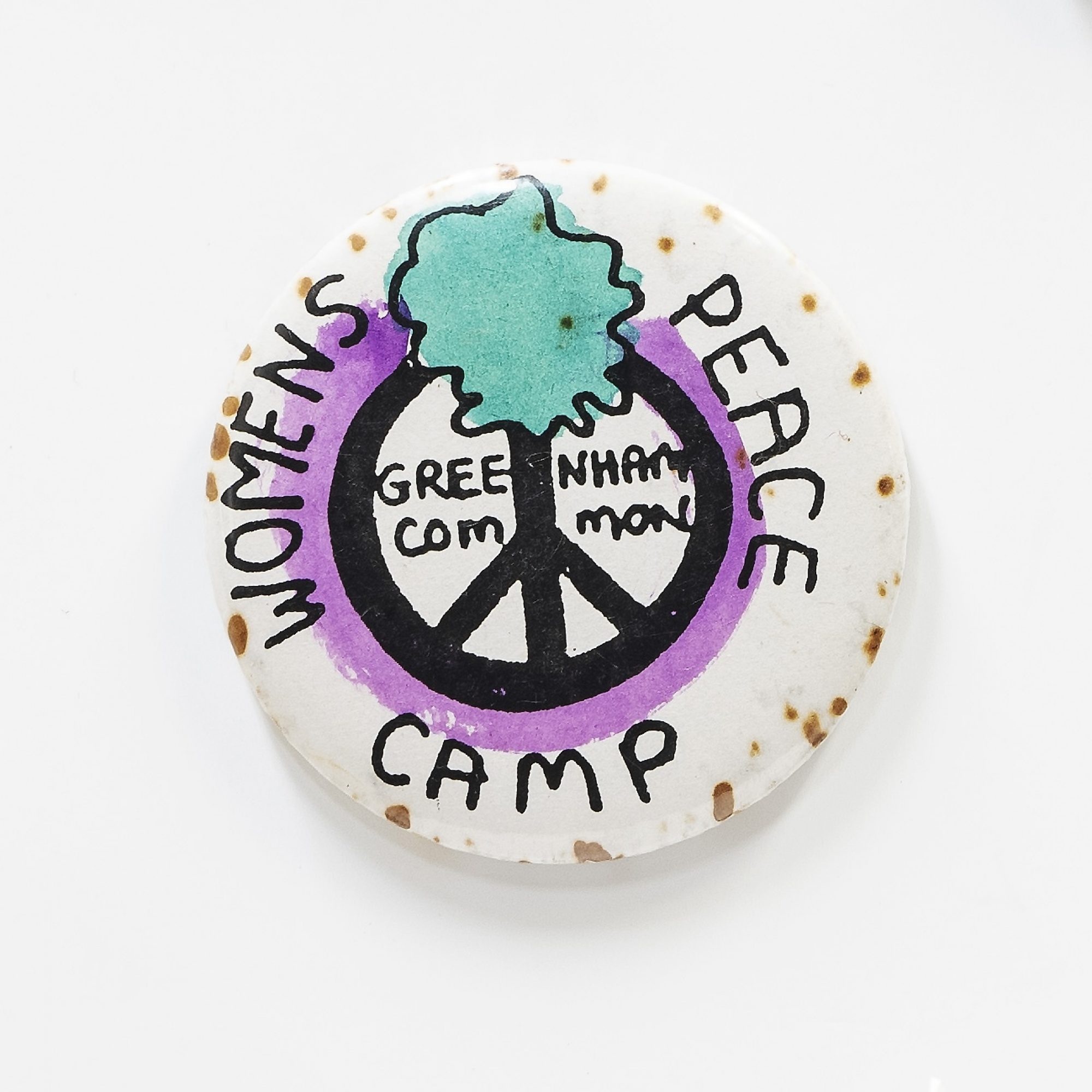 Greenham Common Women's Peace Camp is one of the most famous peace protests and for many peacemakers is a part of their history. It started in 1981 with a march by the 'Women for Life on Earth' group, who walked from Cardiff to Greenham Common, in Berkshire. The women marched and camped there in opposition to the Americans using the RAF base to hold their Cruise missiles. They established this peace camp which remained there until 2000. Over the years thousands of women, men and children protested and finally saw the removal of the missiles in 1991. 
Greenham Common was and still is an inspiration, and these badges are a remembrance of the movement. My favourite badges from this collection are the 'Greenham Women Cut Defence' badges, the striking image of the fence makes them stand out. They also tell the story of how the women would use the fence to protest by displaying banners and signs on it, cutting it to get onto the base and in 1983, thirty thousand women held hands around the base and formed a fourteen-mile human chain in a movement called 'Embrace the Base'.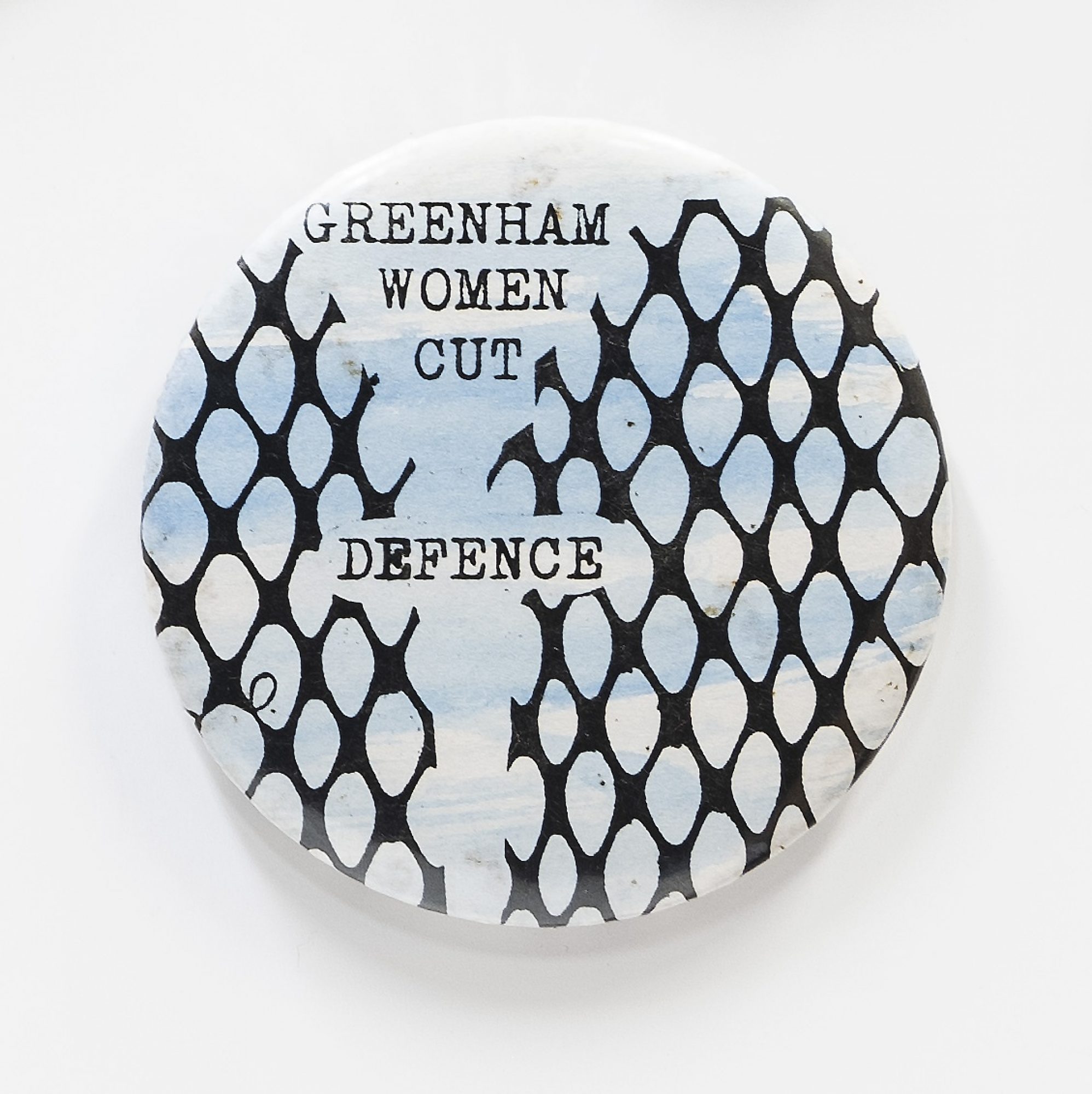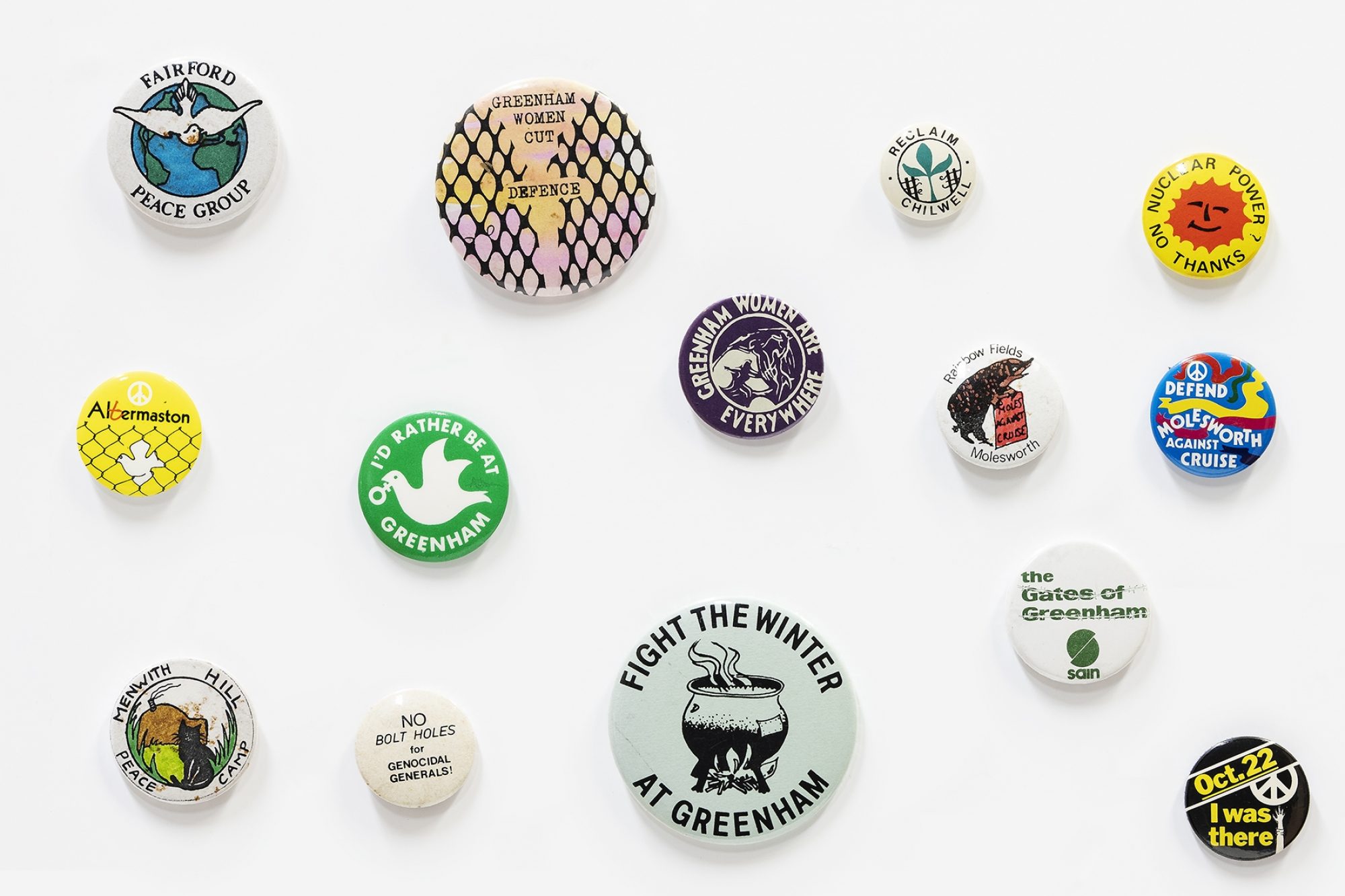 These are just a snapshot of a few of the badges in our collection and some of the social movements they represent. It is really important for us to preserve these pieces of history as they can inspire current and future generations of peacemakers. Badges are timeless, and so as long as peacemakers keep using them, we will keep collecting and displaying them.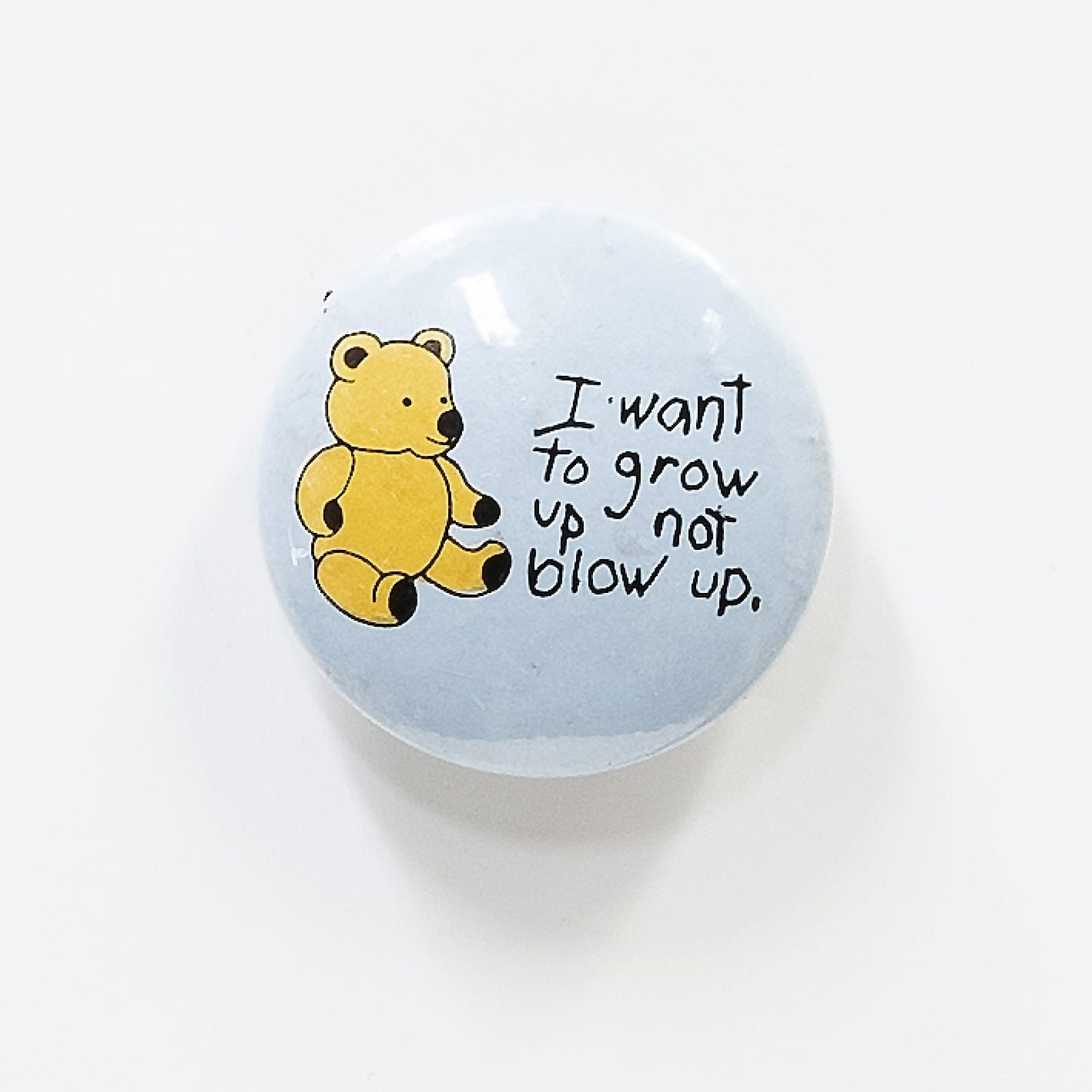 Visit the Peace Museum website.

Charlotte started at the Peace Museum in April 2014 as Collections Intern. She took up the role of Curator in February 2018. She manages and cares for the objects the Museum holds, using her experience and professional qualification. She curates the exhibitions and temporary exhibition programme. She also assists with the daily management of the museum and the outreach programme. Charlotte graduated with a MA in Museum and Art Gallery Studies from the University of Manchester in early 2016.

Photography by Eva Herzog. (Except ceramic CND badge, courtesy Peace Museum / Austen family.)