Pirate Nightmare Vice Explosion excerpts pages from mens magazines of the 1950s and 60s to produce a compendium of the psyche of the American male. Or at least one American male: all the pages are from an anonymous collection, found by comic artist Michael Kupperman, who explains the project in the original introduction to the book.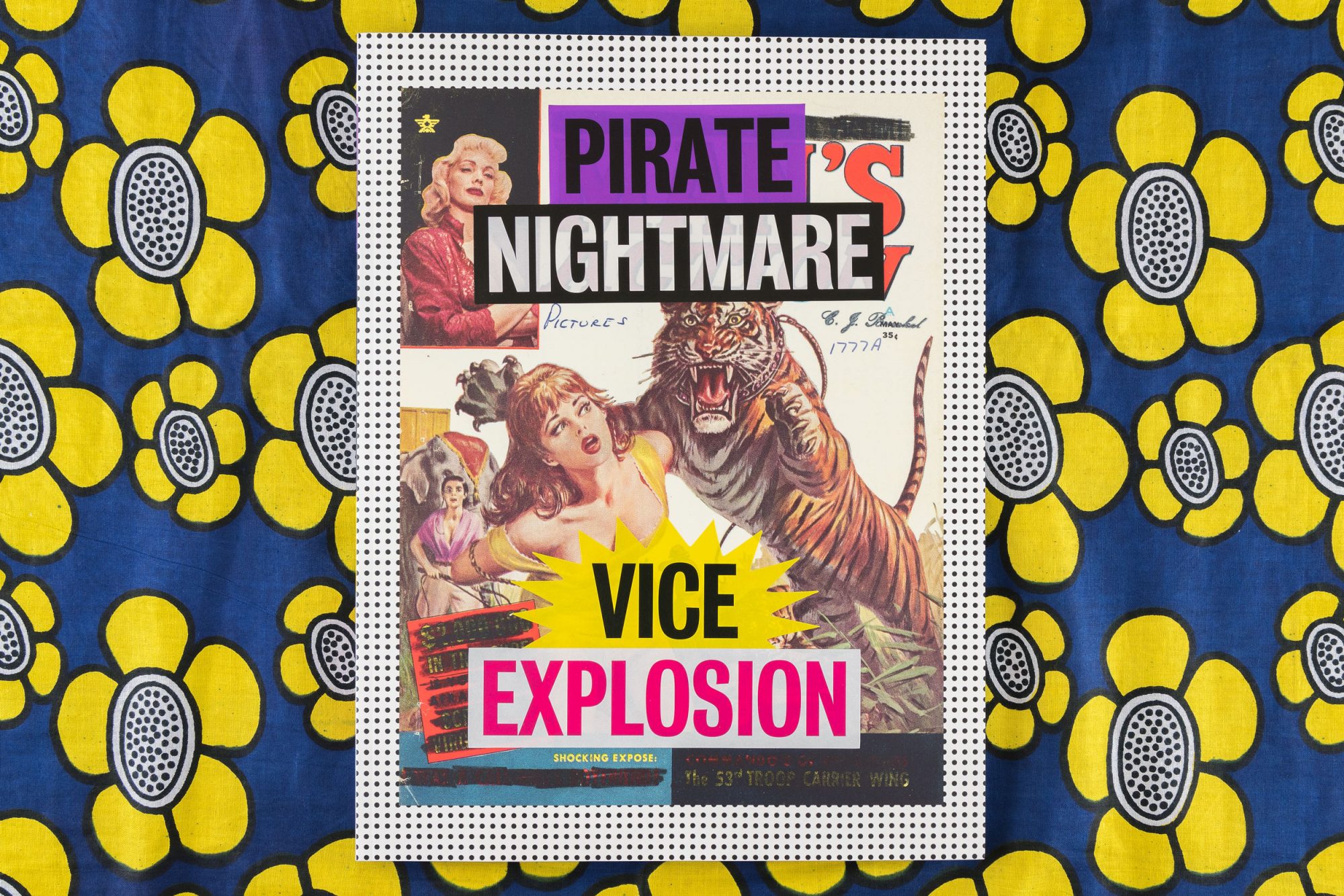 Sometimes I buy old magazines. As an artist I'm inspired by the way the magazines look; as a person I'm impressed by how different attitudes were. The further back you go, the better the design and the stranger the behavior. 

In the late 1990s I would go to A&S, which was a real old-timey used magazine store located on a sunless block of New York City facing the side of the Port Authority bus station, around the corner from the unhealthy-looking Chinese restaurant with a sign that read "DINERSTY". Everything in the store felt as if it had a thin layer of bus-related grime. There were racks of magazines stretching to the back, including, of course, a sizable girlie magazine section, for those looking to save a few dollars by buying previously owned pornography. I mostly went to get copies of magazines I had been in, such as The New Yorker or Fortune, so I would have extra tear sheets to give art directors.
One week I went in and there was a row of cardboard boxes full of odd-looking magazines along the aisle. The magazines were lumpy and misshapen and slightly grubby. A quick examination showed that they were decades-old men's magazines that someone had been tampering with, the spines crudely stapled around pages of varying size, the covers marked with dark scrawls. They'd come into the store along with some other, more intact periodicals and the store owner was disposed to let them go cheap because of their condition.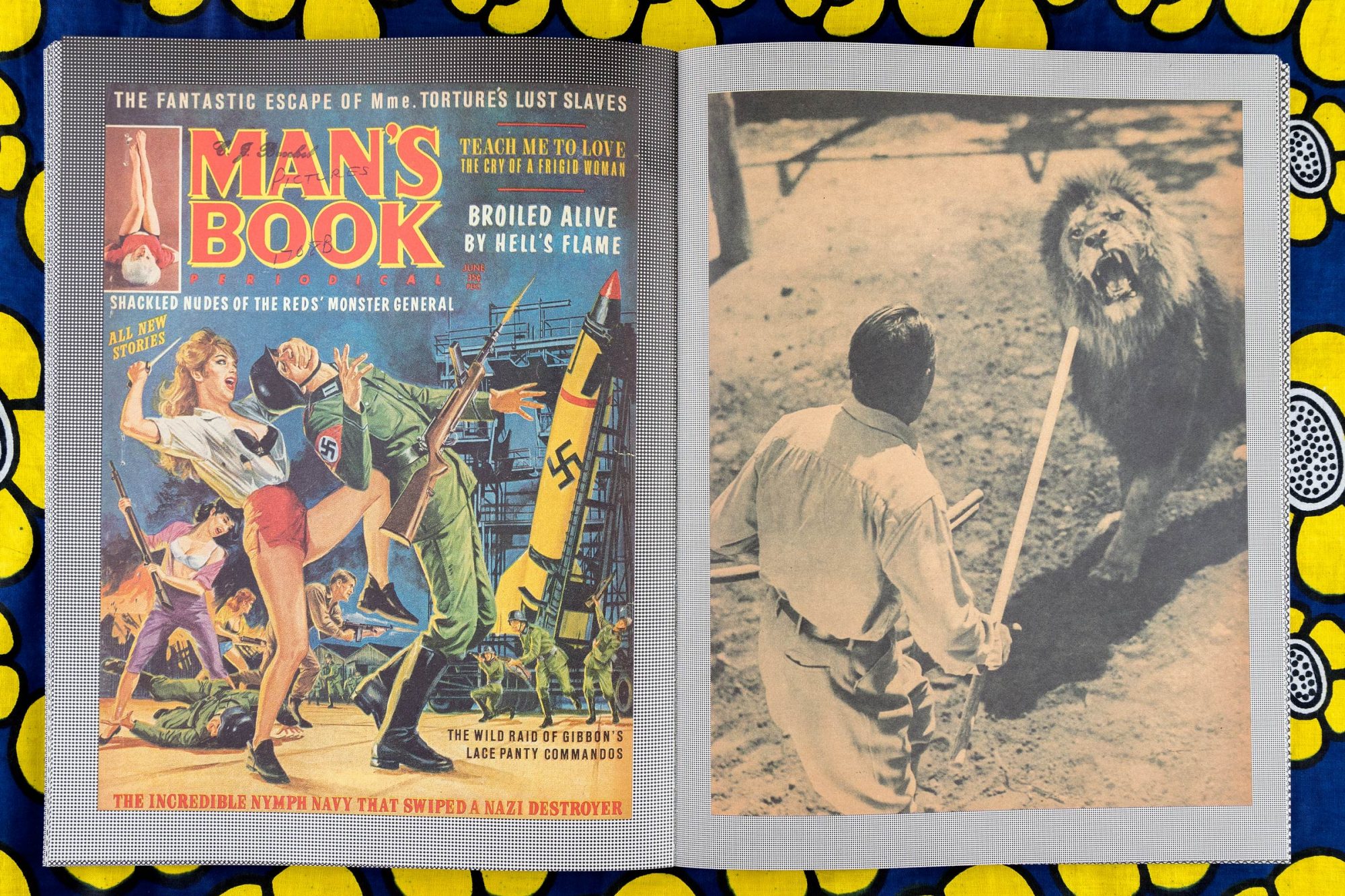 Where did they come from? I think Connecticut was mentioned, but I'm not completely sure (they do feel as if they'd been stored in a garage). They all had the owner's name stamped on them, but, hilariously, the stamp is slightly illegible, so that I never know if the name is C. Buechtel, C. Brockel, C. Buschol, or some other variant. This man – I'm assuming it was a man –  spent years acquiring lurid men's magazines, with titles like SIR!, REAL ACTION, and MAN'S THRILLS, and taking them apart, using the contents to form his own hybrid magazines with the pages from several reassembled inside the cover of one. With a grease pencil he'd cross out the headlines on the covers that didn't apply anymore, and stamp his name on the results, along with a number. Why was he doing this? It's not clear. It might have been a need to make the magazines seem like a serious collection, his re-editing emphasizing his sober interest in subjects such as modern fiction and wife-swapping. Maybe this was one way he justified collecting these lurid periodicals, to himself or a spouse. Or maybe it was a version of the impulse that drives many artists (and three-year-olds): a need to remake and impose personal order that comes from some very deep place.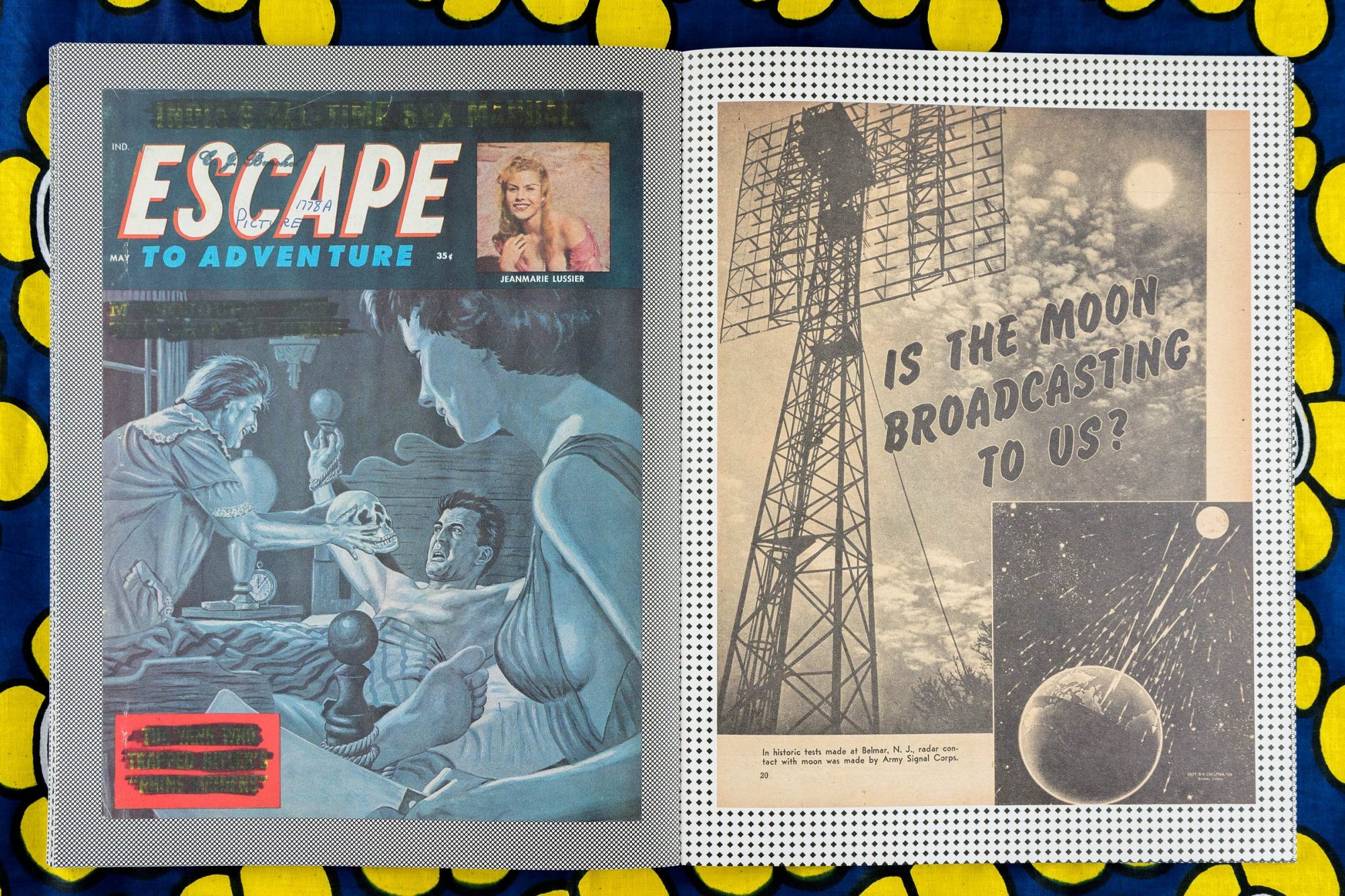 These magazines are definitely a post World War II phenomenon; many of the readers were probably ex-servicemen who felt they'd missed out on some poorly defined "real action." They start in the late Forties, and continue through to the late Sixties, a point at which the romanticization of war was falling out of favor with the general public, and fully clothed pinups weren't enough to satisfy an audience which was developing a taste for harder stuff. The general tone is sensation-crazed, painting a murky, monochromatic world where mysterious, energetic sin is always happening behind closed doors. Pictures of couples grappling feature slanted bars covering their eyes, the same shots re-appearing in various stories: WEIRD NEW VICE-SQUAD HEADACHE: BORED WIVES WHO HUSTLE IN SELF-SERVICE LAUNDRIES. LUST ROUND-UP OF SUBURBIA'S SIN-WIVES. THE "NO-LIMIT" NUDE PHOTOGRAPHY CLUBS.  RAW, ROUGH, READY… THAT'S THE CATSKILLS. ELKO: HOME OF RELAXED VICE. BOSTON: CITY OF BANNED BOOKS AND OPEN SIN. THEY TOOK MY MANHOOD. ANGELS OF MERCY FOR THE BEASTS OF BUSHIDO. HE WAS FINGERED FOR MEMBERSHIP IN THE DEPRAVED FRAT HOUSE OF DEATH. LUST SLAVES OF THE SHE WOLVES.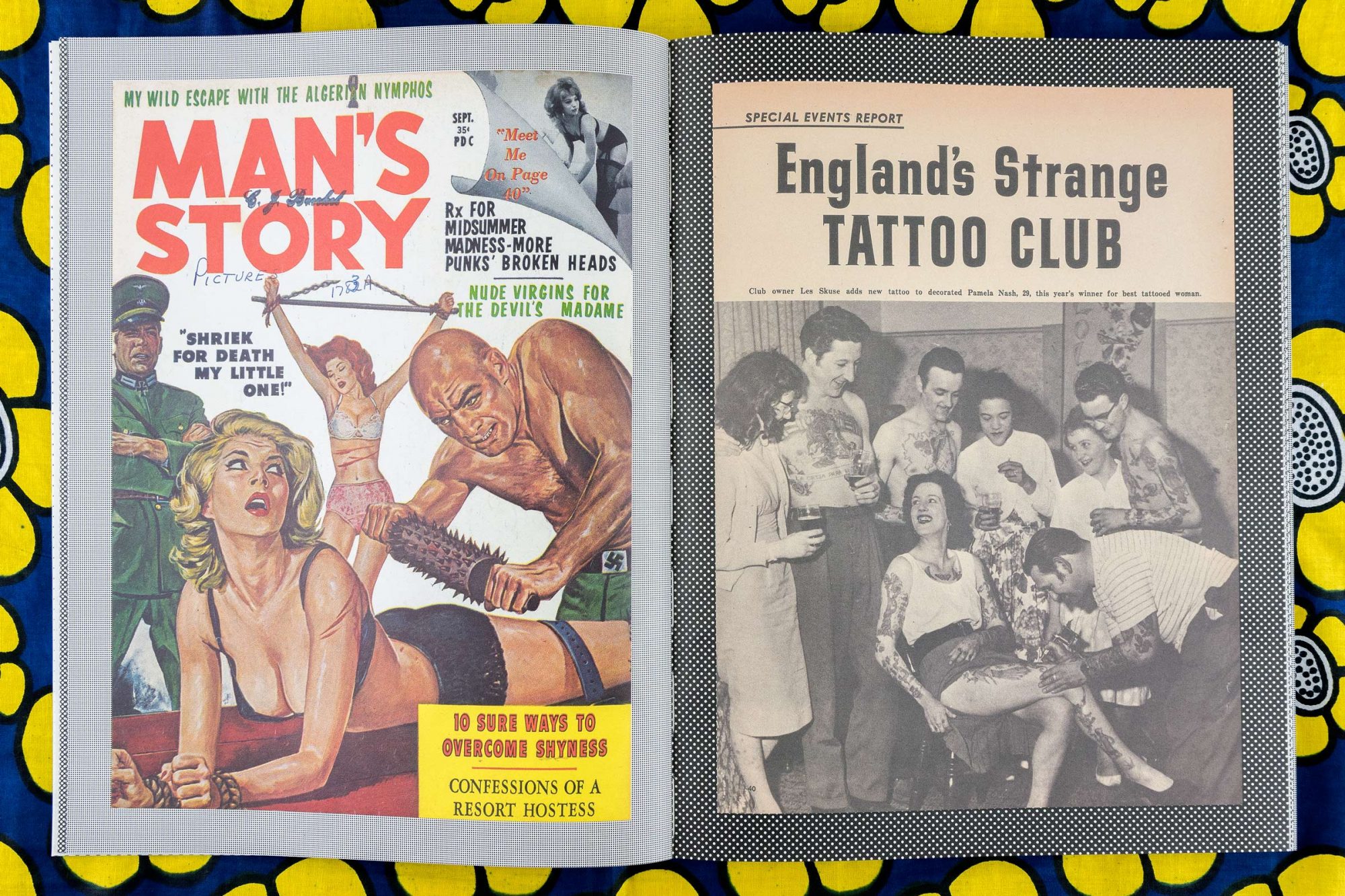 I was instantly captivated by this bizarre goldmine and took most of the restructured collection; more than three hundred magazines, filling several boxes. Back at my apartment I took them apart again, putting the most interesting pages and all of the covers in clear plastic-sleeved binders, so I could have them available for study and easy reference. In a way I was continuing the cycle that the original owner had started; but I have got a lot of use out of them. I've mined them for visual reference, imitated the ads, parodied the language, been inspired by the contradictions; they've become part of my vocabulary as an artist. The remaking that the original owner subjected them to gave me license to become more intimate and casual with them than I would've otherwise felt comfortable with. Which, of course, eventually resulted in this book. 
Michael Kupperman is an American comic artist and the author of Tales Designed To Thrizzle, Snake 'n' Bacon's Cartoon Cabaret  and Mark Twain's Autobiography 1910-2010. His work has appeared in The New Yorker, McSweeney's and Saturday Night Live. If you don't have any of his books, we highly recommend getting hold of an issue (or volume) of Tales Designed To Thrizzle as soon as possible.